For people dealing with emotional issues, hope can be as powerful as any drug. 
Take This is a 501c3 non-profit charity established in 2012 to increase awareness of mental health issues and eradicate the stigma of mental illness. Because the number one problem facing those who struggle with emotional issues is hopelessness. Hopelessness about their symptoms, about the world about anything ever getting better. For people who deal with emotional issues, hopelessness can lead to further symptoms, and even death. But hope does the opposite.
Hope can be as powerful as any drug. Simply knowing that things can get better, that there's help and people who care, can make the difference between living and dying.
At Take This we know this too well. The charity was founded by my wife Susan Arendt, our friend Dr. Mark Kline, Psy.D. and me after the suicide of a colleague. He'd been suffering in silence. None of his friends knew he needed help, and he felt too alone to ask. If that sounds familiar, it should. Too many people suffer in silence because they're afraid to reach out for help. Afraid that no one will understand, that no one cares, that they'll lose their job, their wives or friends or that they simply can't be helped. They're wrong.
Emotional issues are treatable. But more than that, they're normal.
According to a 2010 Harvard Health study, more than 25% of adults in America suffer some symptoms of emotional distress including depression, anxiety, various mood disorders and other troubles. That means more than a quarter of people experience emotional distress, which is the exact same number of people who suffer from cancer.
Take This offers hope in the form of sharing and awareness. We publish stories from people who have dealt with emotional issues about how they coped, what helped them and what their struggle felt like to them. Oftentimes people who are struggling with symptoms of mental illness don't realize that what they're experiencing can be helped. Often they feel that feeling bad is "normal" or that if they try hard enough they can just make it go away. But not talking about symptoms can lead to further symptoms, and without seeking help, many who suffer from emotional issues suffer more.
Take This offers hope in the form of sharing and awareness.
In addition to sharing stories, Take This goes to where people need us. We've had a presence since 2013 at the North American PAX conventions. PAX is one of the largest gatherings of video game fans and game developers in North America, and it's a big, noisy and chaotic show. People drive for hundreds of miles for this once-a-year opportunity to meet friends from all over the world and play video games that they've never seen. The excitement can be intense, and for those who deal with emotional issues, it can be overwhelming.
Take This sponsors an "AFK Room" at PAX, staffed with mental health care volunteers and clinicians, where people who need to regain their calm can come to relax and take a break. And if they need more help, we're there for them. It's just a quiet room with comfortable chairs but it makes such a huge difference. We hear from people who attend PAX that the AFK Room made the difference between their being able to continue enjoying the show and having to leave early to manage their symptoms. Some who are suffering from emergent crises get immediate help, and come back the next day able to continue to have fun. We even heard from one man who's a parent of a young girl who deals with anxiety. He said just a few minutes in the AFK Room saved his young daughter's show, and made him a hero dad.
Right now, Take This is preparing for the PAX Prime 2014 convention in Seattle, where we will be hosting an AFK Room with more than two dozen volunteers including several senior clinicians. We'll be flying members of our core staff to the show, helping train the PAX organization's own volunteers on how to respond to mental health-related crises and giving a talk to attendees of the show about how to be a friend to people who are dealing with emotional issues. It's an exciting time and a fulfilling project for all of us. But it takes money and effort.
Just a few minutes in the AFK Room saved his young daughter's show, and made him a hero dad.
 As we prepared, I began looking at our social media numbers, specifically our Twitter followers. As a digital organization, we rely on social media to help spread the word about what we do and drum up donations to fund our efforts. When I looked at our Twitter numbers, though, I was frustrated. The social media experts tell us that 3,000 followers is a magic number, making you a key influencer. When I looked at our numbers, we didn't have 3,000 — we had just over half of that. Only 1,600. I decided that to help spread the word about what we're doing at PAX and raise more money, we needed to get to 3,000 followers.
OK, so, now what? Getting to 3,000 is a big task, as anyone who's on social media knows. And it could be a daunting task. Take This has been operating for two years and only recently got to 1,600. Could we really double that in just two weeks?
I'm not going to lie; I was in danger, like many who deal with emotional issues, of losing hope. Hitting the goal of 3,000 followers felt impossible, so I did what the mental health experts and Take This advisors recommend: I made small goals and I worked toward those instead.
If you break 3,000 into chunks of just 100 people, suddenly you're looking at a lot more reasonable goal. And now instead of one big goal, I had 30 smaller ones. And since we were starting at 1,600 followers, we were more than halfway there.
So instead of trying to get 3,000 followers once, we're trying to get 100 followers 14 times. It sounds like a mind game, but it makes a huge, huge difference. And each time we get another 100 followers, we celebrate a little, with an animated GIF of a kitten.
It's silly, sure, but it's fun. It reminds us to celebrate the little victories, and not take for granted the small steps that build up to a big journey. And that's exactly how we encourage people to cope with emotional issues.
For someone dealing with an issue like depression, just getting out of bed in the morning can seem pointless. For someone who's lost hope, there doesn't seem to be any purpose to anything. But small victories can lead to big accomplishments. And a little bit of hope can lead to a happier, more fulfilled life.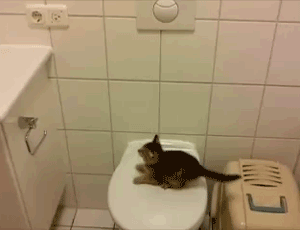 So we celebrate the small victories, and when we look back from the big accomplishments, instead of a long, painful road behind us, we see a path full of small, hopeful victories. And when we're still looking at where we want to go, instead of an impossible journey ahead of us, we see a road filled with nearly unlimited opportunities for hope. 
Yesterday @TakeThisOrg hit 1,700 followers. We celebrated with a kitten GIF.
https://twitter.com/TakeThisOrg/status/502209436874592257
Now we're just 13 kitten GIFs away from our goal. Will we make it? I'm hopeful. But even if we don't achieve our one, big goal, we'll have achieved many more smaller ones. And each one of those is just as important, and just as rewarding.
Russ Pitts is a freelance author and journalist and the co-founder and President of Take This, Inc