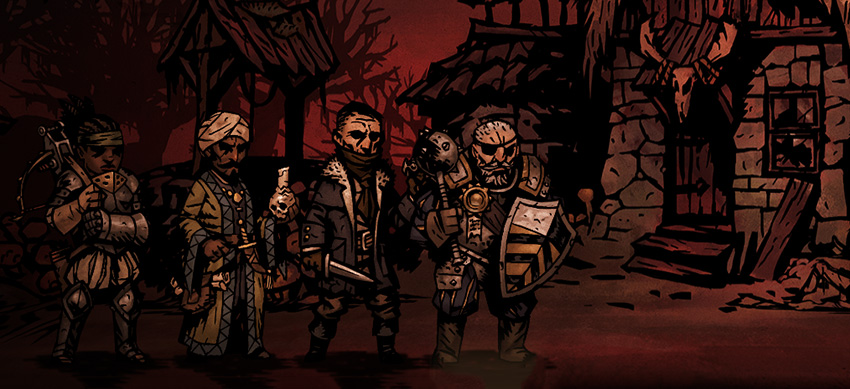 Horror games don't usually have much to recommend them on the mental health front. Sanity meters, overblown hallucinations, "crazy" villains–these tropes don't hold up to scrutiny. Darkest Dungeon does things a little differently. The gothic roguelike, which leaves Early Access today, gives up "sanity" for "stress," "afflications," and "quirks," and in doing so, portrays mental health issues with more nuance than horror games that have come before.
It's still rooted in Lovecraftian horror, so it plays up mental health issues as rather more straightforward and dramatic than they really are. But as Austin Walker wrote for Paste last year, the game abandons traditional Lovecraftian depictions of "madness" for a more complex view of mental health.
Every adventurer starts with an empty stress meter and a few quirks, both positive and negative. These quirks represent a wide range of characteristics, from personal preferences to physical capabilities, from special knowledge to (yes) psychological diagnoses. But mental health isn't treated as more or less important (or pathological) than other personal traits.

Fitzroy, for instance, began the game with the positive quirk "Natural Eye" (giving her a bonus to ranged attacks) and the negative quirks Thin Blooded (making her more susceptible to "blight" attacks) and Lygophobia (increasing the amount of stress she receives when in dim light.) These quirks make each character unique, not only in terms of their capabilities, but also vulnerabilities. Where other games with sanity systems treat every individual as equally sensitive to the same triggers, Darkest Dungeon recognizes that we all carry our own baggage. So, while everyone gets stressed when an undead warrior critically strikes them with an axe, Fitzroy takes it really poorly when that happens in the dark.
Managing your roster in Darkest Dungeon means choosing when and how to take risks with the well-being of your characters, and that can be an unsettling experience. It's certainly not for everyone, even ignoring its more classically horrifying elements. But where many horror games seem to go out of their way to perpetuate the stigma around mental health issues, it's refreshing to see this game take a more thoughtful approach.
Walker's full analysis also gets into historical issues of "sanity" in games–the whole piece is well worth a read.