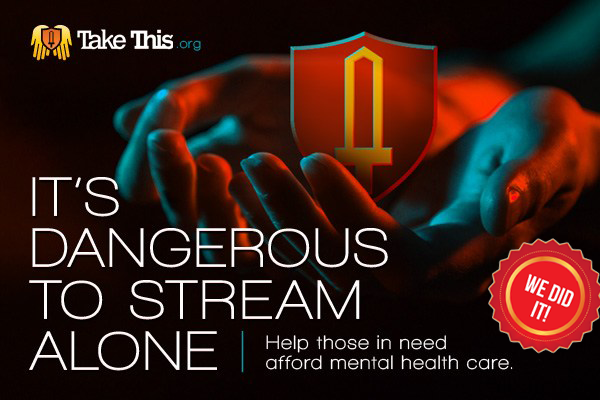 Last week, Take This joined forces with friends, supporters and the community at large to achieve something wonderful: over $18,000 raised to help people who can't afford to pay for mental health care. With the funds raised during the second annual #TakeThisStream, The Take This Scholarship Fund is off to a fantastic start.
The scholarship fund is a new initiative for Take This. We've found that the annual cost of basic mental health care for an individual can be as much as $10,000, and most health care plans in the US don't cover mental health. Add to that the difficulty of finding a clinician who's right for you and also takes your plan, and getting the help you need can become a daunting task—particularly for low-earning students and artists who may be susceptible to mental health issues.
Take This believes that people in need of mental health care should not have to go alone. That's why we've created The Take This Scholarship Fund, seeking to provide grants in the amount of one year of mental health treatment to qualifying applicants.
About the Stream
A quick recap for those of you who couldn't join us for the stream: On December 28th and 29th, more than 30 streamers volunteered their time to entertain viewers and raise funds during the #TakeThisStream. Over the course of 36 hours together, we learned how to hunt dinosaurs in Ark: Survival Evolved, got hints about game design and upcoming plan from Ken Levine while he played Dying Light, laughed and screamed our way through the gory FMV classic Harvester, were charmed by games like Yoshi's Wooly World and Chibi Robo, and got sneak peeks at upcoming titles like YIIK: A Post-Modern RPG and Wasted.
Those were just a few of the awesome games that we got to enjoy over the course of the stream—and that's not including the ones we played in chat and on Twitter to give away prizes and game codes.
Thank You
Of course, we didn't stream alone. Thank you to everyone who joined us in chat, spread the word, volunteered your time or donated to the campaign.
We also want to thank everyone who streamed with us over the course of the campaign. Aaron Linde, Amber 'Phedran' Campbell, Andrea Rene & John Drake, Andrew Allanson, Anthony Carboni, Ashley Esqueda, Dan Amrich & Rob Smith, Dan Hevia, David Eddings, DbauchdSloth, Eric Neustadter, InstantSmile, Jeff Green, Jeremy Pearson, Jim Sterling, Julian Murdoch & Peter Murdoch, Justin McElroy, Ken Levine, Laura Shiraishi, Mark Medina, Marshall Honorof, Matt Grandstaff, Mike Futter, Mnemosyne25, Murray Berkowitz, Naomi Kyle & Kyle O'Connor, Nathan Ortega, Nika Harper, Peeve Peverson, PwnStarsWorldWide, RetrogradeTom, robertzucksatgames, Russ Pitts, Sarah LeBoeuf, Sean Baptiste, Sean Pitts, Shawn Andrich, Susan Arendt, Thom Clancy and Vincent Ingenito—thank you. We couldn't have done this without you.
Finally, we'd like to share our deep gratitude for our generous sponsors: AgentM, AtlusUS, Bethesda, BioWare, Double Fine, EA, Epic Games, GameSpot, Harebrained Schemes, Hidden Path, IGN, Kristy Pitchford, Nintendo, Penny Arcade, Robomodo, Spry Fox, Ubisoft, Wyrmwood Gaming and Young Horses.
It's Dangerous to Stream Alone, so it was a pleasure having so many good friends along for the ride.