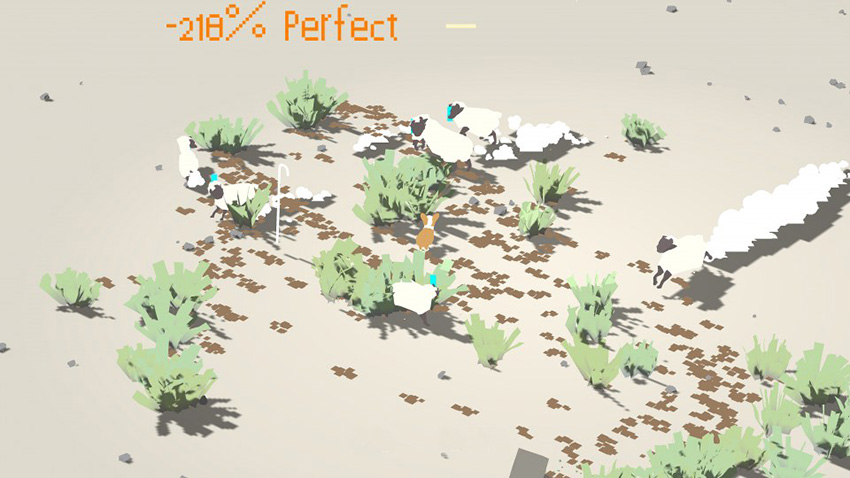 From Bad Corgi, 2016, by Ian Cheng
As the owner of a young corgi pup, I can confirm that digital artist Ian Cheng is onto something with Bad Corgi. Don't get me wrong: they're the sweetest, cutest little things. They're also hurricanes of furry activity ready to tear up your entire life. Dogs, in other words. Complete with minds of their own.
The Serpentine Gallery commissioned the piece, and describes Bad Corgi as "a mindfulness app for iOS in which you assume precarious control of Bad Corgi, a dwarfish demon pup tasked with benignly herding sheep and avoiding distraction in a world of chaos." Players won't so much control the titular corgi, they will "experiment with opportunities to pollute the herd, lose points and experience loss of control over their canine protagonist."
Sounds frustrating, right?
According to artist Ian Cheng, that's rather the point:
I see my simulations as a kind of neurological gym in which art becomes a means to deliberately exercise the feelings of confusion, anxiety and cognitive dissonance that can accompany life in a world of intense change and uncertainty. In this way Bad Corgi functions as a shadowy mindfulness tool about refusing to eradicate stress and anxiety, and instead learning to deliberately setup and collaborate with those bad-feeling feelings.

Leaning in to those difficult feelings is one way to learn to move past them, and more or less the only way to enjoy life with a small, fuzzy companion who is obstinately resistant to being controlled.
But while sometimes a cigar is just a cigar, this video game corgi is more than just a corgi. It reflects on our states of focus, distraction, and discipline as humans, as well as our "uncanny ability to become possessed by an inner impulsive autopilot."
We'll have the opportunity to learn to love that chaos later this month when Bad Corgi is released on the App Store and through the Serpentine Gallery website.
[via The Creators' Project]