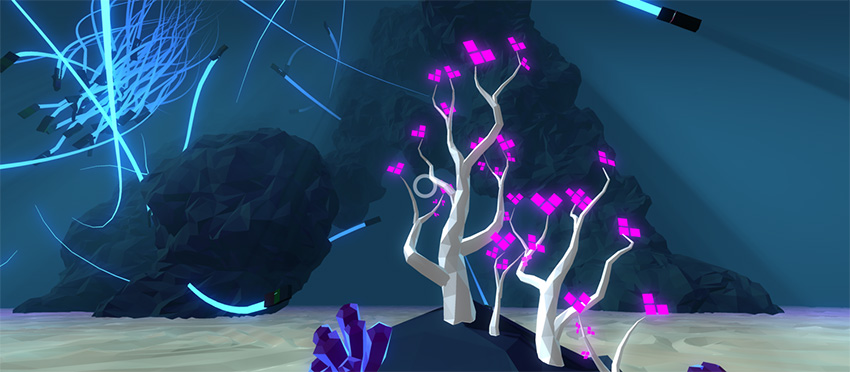 I'm completely into the idea of VR. Being transported into games that surround me, and exploring fictional worlds from the inside? Awesome. Having to smush a headset over my glasses and roll the dice to see whether I'll be anxious, nauseous, or just plain disoriented by the time I get out? Well, that's less great.
But DEEP sounds like a game I'd risk it for. Its creators describe it as "a meditative and psychoactive VR game that is controlled by breathing." Once you settle in with your Oculus Rift, you can explore a mysterious undersea world. While you're down there, a custom controller measures the depth of your breath–allowing the game to give you gentle cues to lengthen and deepen your breath until you can slip into a more meditative, less anxious state.
Owen Harris, one of DEEP's creators, says that the game came from his own experiences with anxiety and depression. He wanted to take this burgeoning technology and create an environment to complement his own meditative practice–a personal zen garden that turned into something much greater.
Engadget spoke with the team designing DEEP about the therapeutic possibilities for the game.
Through a partnership with Isabela Granic, a professor of Behavioral Studies at Radboud University in the Netherlands, Deep VR will become more than just a calming escape for VR enthusiasts; it's now the basis for a psychological study that aims to alleviate anxiety in children.

Though Harris and Smit hadn't consulted behavioral researchers during the initial design phase of Deep VR — they did, however, make great use of Google — Granic says the duo's work was scientifically sound. "They nailed it so beautifully," says Granic of Deep VR's skillful use of sound, color and breathing techniques.

With a yearlong grant to fund her research, Granic's already completed a pilot study on a group of more than 100 young people (ages 8 to 20) comparing the relaxation effects of Deep VR and exposure to scuba diving videos. She says the early findings will be presented at CHI 2016, a leading computer-human interaction conference. But Granic's involvement with Deep VR will extend beyond just using the game in controlled studies. Her findings will also inform future iterations of the game's design and, eventually, its sensor.

Though not everyone finds it beneficial, diaphragmatic breathing is one effective way to diminish symptoms of anxiety. Having the chance to practice it while being transported into a calm, beautiful environment sounds like a great reason to give VR a shot.
[Engadget]