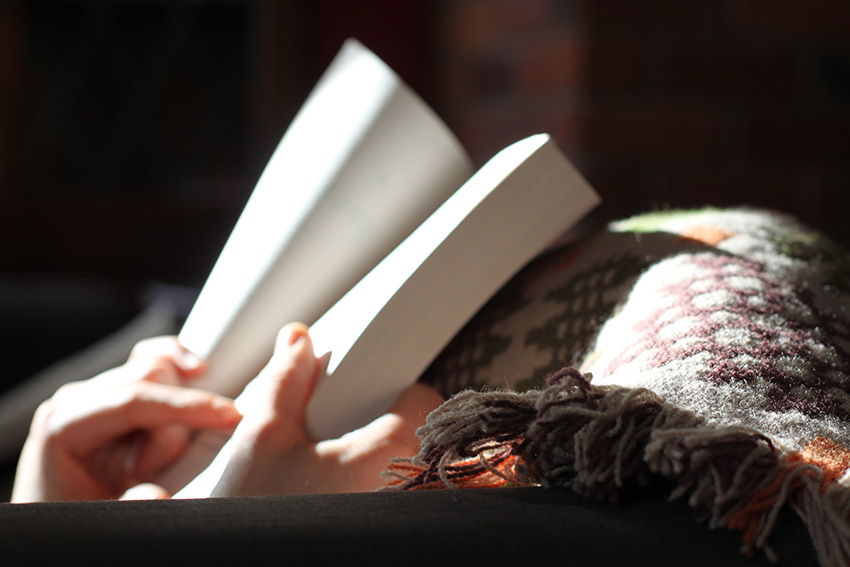 Image credit: Alice Hampson
My dream Sunday afternoon is a good book, a good cup of coffee, and a little sunshine filtering in through the window. Games just don't give me quite the same sense of peace, you know?
If you're also looking for a good read for the weekend, Barnes & Noble has just published a great list of science fiction and fantasy novels that treat mental health issues compassionately. They include Planetfall, by Emma Newman (which I've been meaning to pick up); Borderline, by Mishell Baker; Every Heart a Doorway, by Seanan McGuire; and a few other entries that sound like great reads. Commenters have also added several suggestions of their own.
Planetfall's author, Emma Newman, wrote a guest article for The Mary Sue about her decision to give her book's protagonist, Ren, an anxiety disorder:
I don't suffer from the same disorder as her, although both are rooted in anxiety. There's an overlap, and for those aspects, I could draw upon my own experiences, but for a lot of the more extreme manifestations of her illness, I relied upon research and empathy. I fretted a great deal about whether I wrote it with accuracy and with enough sensitivity and authenticity. When it was released, all I could do was hope it would find readers who loved it, like all authors do.

What I didn't anticipate was the reaction from readers with anxiety disorders. They've expressed relief, thanks, and joy at seeing a woman with a similar experience to their own at the center of a science-fiction story. One reader said that a scene where Ren has a panic attack allowed her to process her own experience of that within a safe, calm space.

I hadn't even considered that. This leads me to the second decision I've been thinking about lately: the unconscious decision to put the struggle with anxiety at the heart of a sci-fi story.
While we're talking about genre novels and mental health, Book Riot has a piece up on one reader's preference for reading romance novels when she's dealing with her depression.
In truth, I have enjoyed romance as a genre ever since I was a kid (and maybe younger than I should've been). But what I felt for them during those years was more than simple enjoyment – they gave me faith that I could carry on and, if not completely beat my depression, sneaky chronic bastard that it is, I could at least learn to live with it. Build a satisfying life, maybe even find my own happily ever after. Because here's another thing romance novels did – they let me know that happily ever after doesn't mean hardship-free. It doesn't mean not facing pain, or death, or loneliness. Happily ever after means accepting yourself and your circumstances, and making the best of them.

While I typically answer the aforementioned question ['You actually read this?'] with a simple 'yes' (and perhaps a death look for good measure), this is what I really mean by that one word answer: Yes, I actually read this. Yes, I enjoy it. No, I don't consider it a guilty pleasure. And I can tell you that a) I'm not even a little bit embarrassed, and b) I'm better off for it.
If you have any recommendations for novels that do a good job of representing mental health issues, let us know on Twitter and Facebook. New reading material is always welcome.