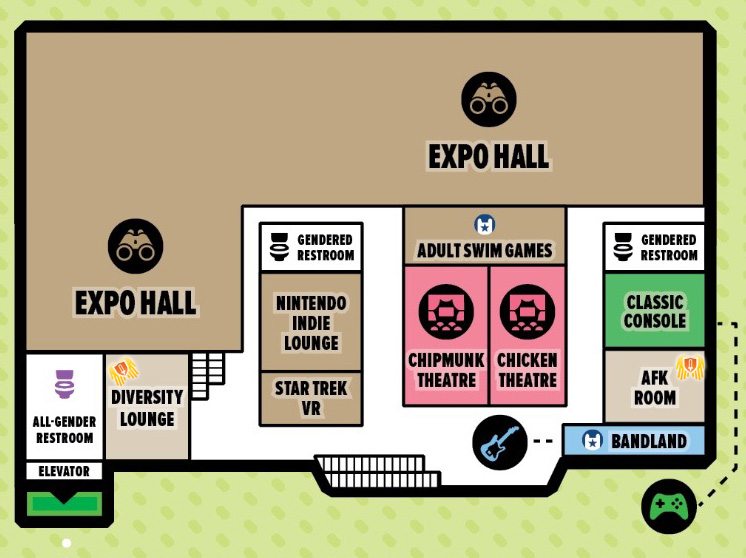 If you're at PAX West this weekend and you need a place to get away from the noise and crowds, we've got you covered. Take This is bringing the AFK Room back to PAX West, and we're ready to help you regain your calm.
You can find the AFK Room in Room 601, located on the 6th floor of the Washington State Convention Center. If you've visited us before, you should know that this is a new location — not far from our previous one, but bigger, and with an outdoor space.
If you've never stopped by the AFK Room, you can expect a safe, quiet space staffed with clinician volunteers who can help you if you need assistance. It's a good place to go if you're feeling overwhelmed or anxious. It's also a great place to bring a friend if they're having trouble coping. We keep the room calm and quiet, and we generally have coloring books on hand so you can take a moment to center yourself when you need it.
The AFK Room will be open Friday to Sunday from 12 p.m. – 8 p.m. and on Monday from 12 p.m. – 5 p.m.
Just want to stop by and say hi, pick up some merch or offer your support? Come visit us at our booth in the Diversity Hub and Lounge instead. We'll have the Box of Hope for sale, as well as our pins. All proceeds go to support Take This's continued work to raise awareness about mental health issues and to reduce the stigma around mental health, and our volunteers will be happy to hear from you.
And remember, if you're attending PAX West or any other convention, our clinical director, Dr. Raffael Boccamazzo, recently shared some helpful tips for making the most of your con experience. Stopping by the AFK Room for a breather is very helpful, and a little preventative self-care can also do wonders for your mental well-being.