With the Take This team off to PAX West this weekend, we have a lot of preparation to do. Part of that prep? Packing the right things to take care of ourselves — it's a lot harder to help others when you're not doing so well yourself.
To give you some inspiration for your own packing plans, here's what Doctor B brings for a successful convention: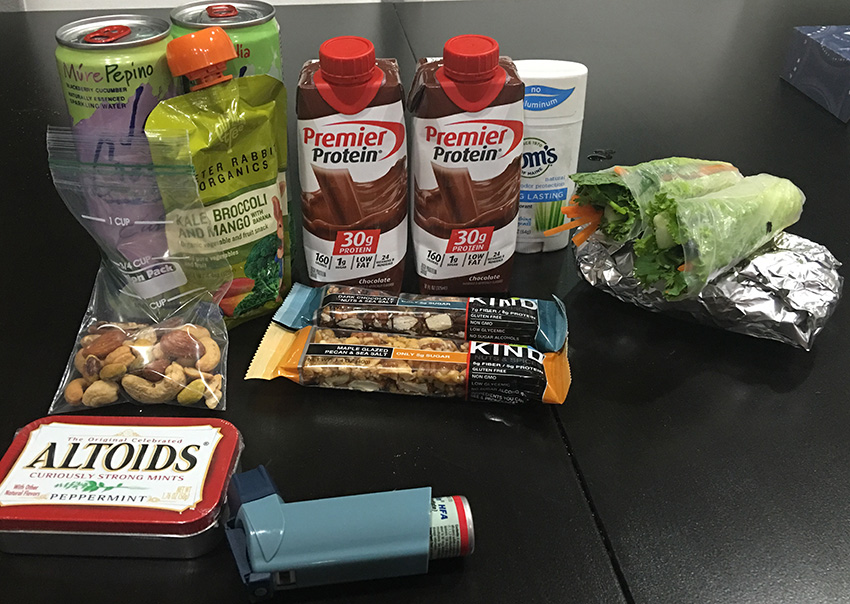 Food
"I like to pre-pack a bunch of food so I can snack throughout the day. This way I avoid excess junk food (I cheat a bit. It's con!) while still keeping my energy up. I also make sure to eat at least one full meal in addition to my pre-packed food. I also pack some other extra sundries."
Here's a breakdown of Doctor B's inventory:
"Cans of flavored seltzer so I avoid sugary soda."
"Homemade spring rolls, because PAX West is my home turf." (If you're coming in from out of town, there's at least one small grocer near the convention center, and Juicy Cafe serves healthy food inside. -Ed)
"Extra mints, because that's just considerate in a place with tightly-packed people."
"Extra deodorant, because that's more considerate in a place with tightly-packed people."
"Inhaler, because breathing is good."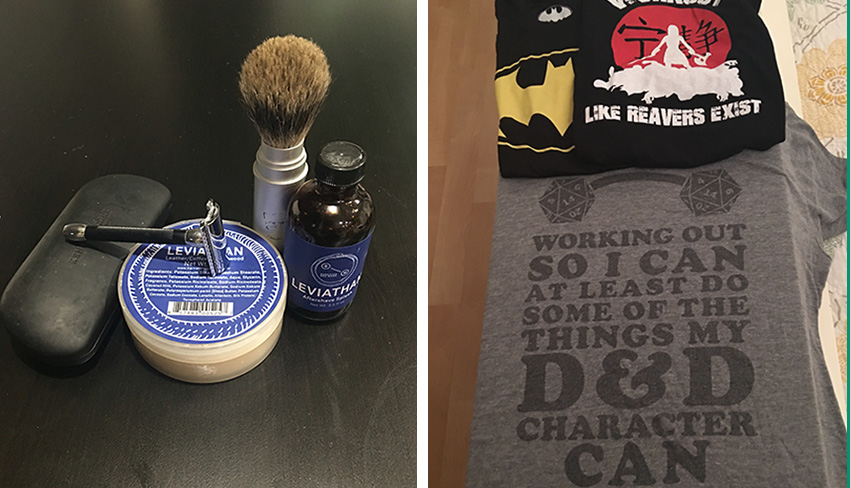 A Shower and a Shave
"Most mornings, I also have like to have a relaxing shower and old-school, brush shave before I head to the convention. It's a ritual calm before the storm. Plus, I like smelling pretty. In my case, hints of leather, coffee, and sandalwood."
Working Out
"Finally, I like to bring my favorite workout shirts to every con I attend (and my Bluetooth earbuds). Cons are a marathon, and I need to keep my energy up. Exercise helps me focus and sleep better, which gives me more energy."
Your Picks
Those are Doctor B's must-haves for convention packing. What are yours? Share them with us on Twitter so we can pass on your good advice. Me, I always make sure to carry an empty water bottle. There are taps and drinking fountains on site, and I always need to hydrate more than I expect with all that extra walking and the cozy warmth of the crowd. Trying to find the last vending machine that still has soda stocked isn't my idea of a refreshing experience.
Staying On Task
Did you know there's a bonus challenge in our Habitica Challenge series? It's called The Long Con, and it includes helpful tasks to keep yourself healthy and even-keeled throughout any convention. You may be away from your normal routine at PAX, but having some kind of structure can be a big help.
Doctor B also got deeper into convention self-care in this month's Year of Mental Health article at Geek & Sundry, so if you haven't taken a look, now would be a great time.
With that, we hope you're well-equipped for the weekend ahead. If you need a breather during the convention, remember — the AFK Room is there, and so are we. You don't have to go it alone.