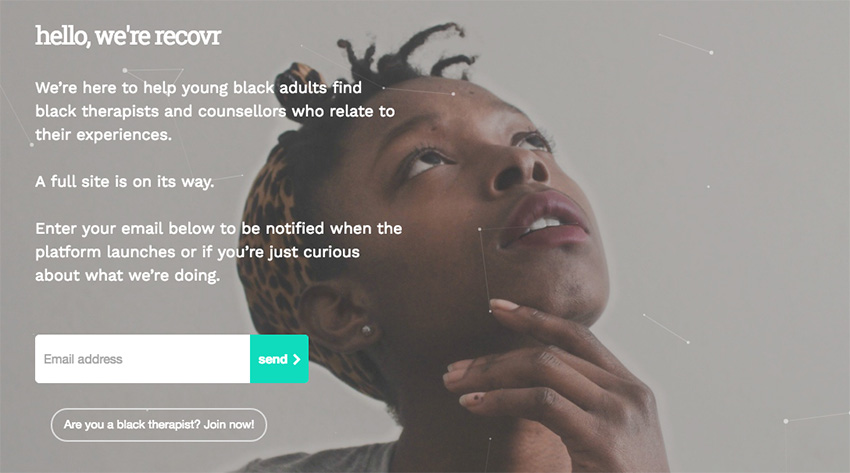 Recovr
Finding the right therapist can sometimes be a challenge. Cost and location are factors, and so is fit. If you're not comfortable with your therapist and you don't feel they can understand the issues that you face, it's can be hard to get what you need out of the experience.
Recovr is a U.K. startup that aims to make the process of finding the right therapist easier for young black adults. When it launches, it will help match users with black therapists and counsellors in their regions. According to its founder, Sait Cham, it will provide accessible, jargon-free information about the therapists that choose to list themselves with the service. It will also offer subsided or otherwise affordable treatment to users who need it, depending on their income and mental health care requirements.
Buzzfeed reported on Recovr earlier this year, speaking with its founder, mental health practitioners, and individuals looking for mental health care.
"This is a very exciting project that totally needs to be done, and I can't believe it hasn't been thought of before," says Michael Opoku-Forfieh, a forensic mental health practitioner in London.

"What Sait has identified is that if you come from a black perspective or nationality, you don't always get the support you may be specifically requesting," he says. "With IAPT [an NHS-funded psychological therapies programme] you literally get anyone, and they might not have the experience or knowledge to support you and your identity very well, alongside the mental illness you might be presenting."

Therapist directories generally focus on things like location, areas of practice, and approaches used, but more specific details can be harder to find. For minorities, finding a therapist who understands problems unique to your community — or even a therapist who speaks your language — can be a challenge.
Recovr shows that technology and drive can go a long way toward making the professionals who can help more visible to some of the people who can most benefit from working with them.