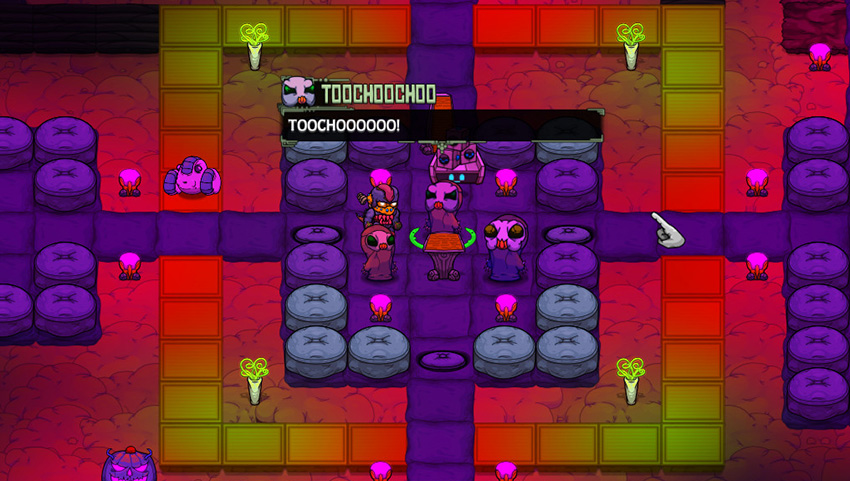 Butterscotch Shenanigans' Crashlands is a delightful distraction — a crafting RPG with a strong gameplay loop that's hard to break out of. That's by design, and not to get players to open their wallets. The team wanted to make something that would take people out of their troubles. That became their mission after Sam Coster, Butterscotch Shenanigans' co-founder, was diagnosed with cancer. Creating Crashlands became his distraction, and he wanted to share that escape in turn.
Coster talked about the experience of creating a game while undergoing cancer treatment with Kotaku earlier this year. He spoke about how his priorities changed when he was diagnosed, the scary situations he went through, and the joy of putting out something that other people could benefit from as much as he did.
Kotaku: Right. And I feel like some people would look at the experience you created and claim it's not as important as That Dragon, Cancer, or that it lacks artistic merit because it's escapism. But that's clearly not the case, nor is it a particularly useful line to draw.

Sam Coster: Yeah. And the craziest thing is, so we did a beta in November 2015. We started right before Thanksgiving, and we had about 150 people in it. We had three messages from people in that group, one of whom was going through a depressive, anxiety-ridden episode. He was a PHD student. Another had been dealing with PTSD from coming back from war. And then another guy was from the UK, and he was undergoing cancer treatment. Each one of those people separately—without us saying, "This is the point of the game"—sent us private messages saying, "Hey, I haven't felt this way from playing a game in ten years." Stuff like, "The amount I was able to lose myself in this game made me feel like a kid again." That level of being carefree, running around harvesting stuff and punching Womp-Its in Crashlands.

We completed the beta, and some of our friends were like, "What are you guys' criteria for success with this thing?" I think they were expecting us to give financial variables. And granted we had them. It cost money to make the thing. But at that moment, we just said, "It's already successful. It's good. We know it's good because we gave it to people who we didn't know needed it, and they responded literally in the exact way we'd designed the experience to have them respond." It let them escape temporarily.

Crashlands is available on Steam, iOS and Android. Creating it was the perfect escape for Coster when he needed it — now Butterscotch Shenanigans hopes that it will be the perfect escape for you if you play it.
[Kotaku]