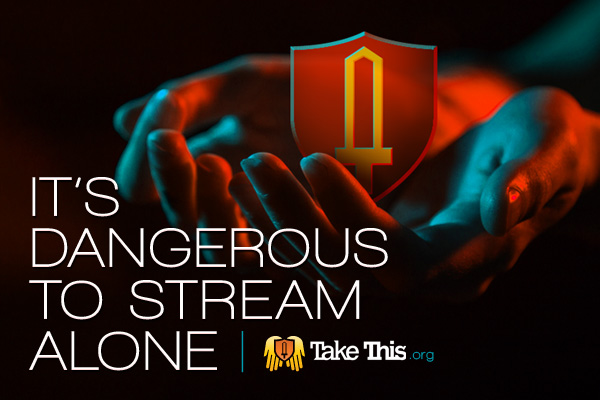 The holidays are here, so let's settle in with some good video games start streaming – it's time for the It's Dangerous to Stream Alone holiday fundraiser. We're making our own merry with game streams and good times all week, and we hope you'll come too. Starting today and going through December 30th, we're inviting everyone to join our campaign — and everyone definitely includes you.
This week can be tough for a lot of us thanks to family issues, loneliness, financial stress, depression, and any number of other reasons. Our holiday streaming campaign is a fundraiser to help support the Take This mission and our many programs in the year to come, and it's also a chance to get together and support each other when the going might be a bit tough. Come out for the fundraising, for the games, for the fun and for the company.
There are a few ways to join us this year:

Stream with us! This year's stream is easier than ever. There's no need to worry about scheduling, just pick a time, visit our Tiltify campaign page and click "Campaign For Us" to sign up. We've put together some instructions, but it's pretty straightforward. Once you're set up, all you need to do is let your friends or followers know and stream something at the appointed time! Make sure to tag @TakeThisOrg so we can share the details! You can also use #StreamTogether to talk about streams for the campaign.
Watch the streams! We'll be showing streams on our own Twitch page and sharing news of other streams on Twitter.
Spread the word! If you can share this post, share the link to our Tiltify campaign page, or RT updates from us and participating streamers on Twitter, we'd truly appreciate it.
Donate! If you want to support the Take This mission and programs like the AFK Room, donations are always appreciated — and every little bit goes a long way toward helping folks in the gaming community who are coping with mental health issues. To donate during this fundraiser, just visit the It's Dangerous to Stream Alone campaign page and click Donate Now.
Let's brighten up the last week of the year and have some good times, shall we? It's dangerous to stream alone — but it's great fun to #StreamTogether!