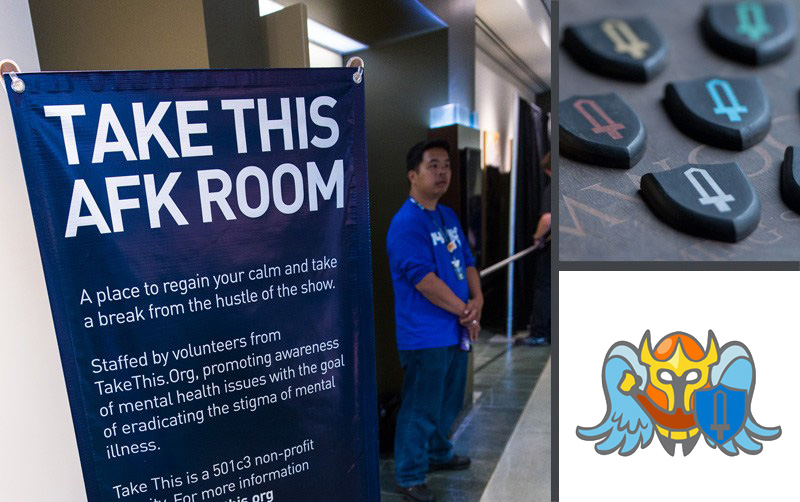 PAX South is almost here. On Friday, Take This will be joining many of you in San Antonio, TX, at the Henry B. Gonzalez Convention Center. Enjoy playing all the games, exhibiting, helping out at the show, or otherwise living PAX life, and we'll be there with the AFK Room if things get to be too much.
If you're unfamiliar with the AFK Room program, it's a safe, quiet space for convention attendees, staff and exhibitors to visit when they need to regain their calm. Each AFK Room is staffed with clinicians and other volunteers who are there to check in, keep the room in good shape for people who need it, and make sure anyone in a crisis gets the help they need. Fun as they are, conventions can sometimes be overwhelming for people dealing with sensory overload, social anxiety, and many other issues — and sometimes it's just nice to have a quiet place to decompress for a little while.
This year at PAX South, you can find the AFK Room in room 221AB by going straight up the escalators from the show's main entrance. It will be open on Friday and Saturday from 11am to 7pm, and on Sunday from 11am to 5pm.
You can also find Take This at our booth in the Diversity Lounge. If you want to stop by and say hi, pick up some merchandise, or get information about Take This, come visit us on the 2nd floor of the convention center next to Armadillo Theatre. We'll have our Pinny Arcade Psychomancer pins and Boxes of Hope available, as well as Take This enamel pins. Supplies are limited, so visit early if you want to be sure to get your hands on our merch. Proceeds from your purchases will go straight to supporting Take This programs.
We can't wait to see all of you who attend PAX South — and all the other conventions Take This will attend in 2017.
[Updated: Clarification on the second-floor location of the AFK Room]