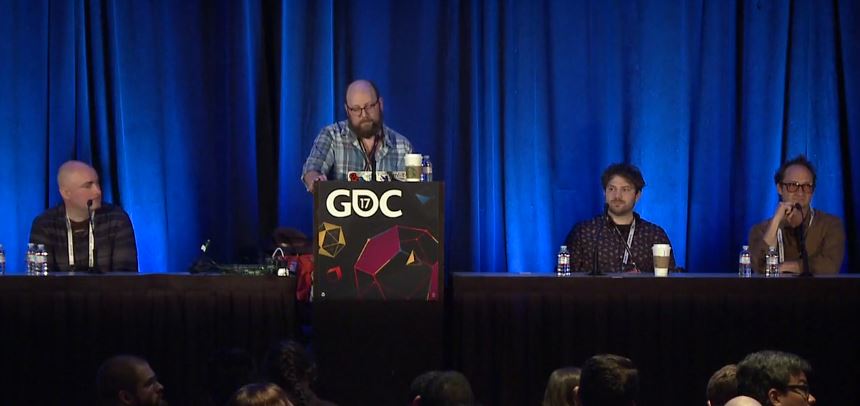 At GDC, Russ Pitts, president and co-founder of Take This, spoke on the subject of mental health in the video game industry — specifically, how to create a mentally healthy environment and deal with mental health issues in your studio of any size in a healthy, productive way.
This year, he was joined by Alex Austin, developer of Gish, Sub Rosa, Leo Dasso, developer of Diluvion; and Mike Wilson, co-founder of Devolver Digital. They shared their expertise
Here's the description of this year's talk:
One in four employed adults in America suffer from symptoms of mental illness, and there's reason to believe that figure is higher in the games industry. Emotional issues accelerate burnout and drain productivity. Depression alone accounts for over 200 lost workdays a year, at a cost of billions of dollars in productivity. Game studio culture can accelerate or exacerbate symptoms of mental illness, and many emotional ailments can worsen in the workplace, resulting in tragic outcomes if left unaddressed. This 1-hour lecture will offer simple, effective advice on how too destigmatize mental health issues in your studio; help yourself and others create a positive work experience; effectively reach to those who may be suffering silently, and create a culture with a positive resistance to emotional suffering.
It's available for free through the GDC Vault, so go check it out.
If depression-proofing your studio culture is something you're interested in, Take This also offers the Underground Consulting program. It's been developed in partnership with management consultants, studio leaders, and the psychological and technical communities, and marries our industry leading research on mental health care issues with proven leadership strategies. Its goal is to help make games teams stronger, more resilient to mental health stressors, and more capable of addressing specific needs of individual workers. Learn more here.