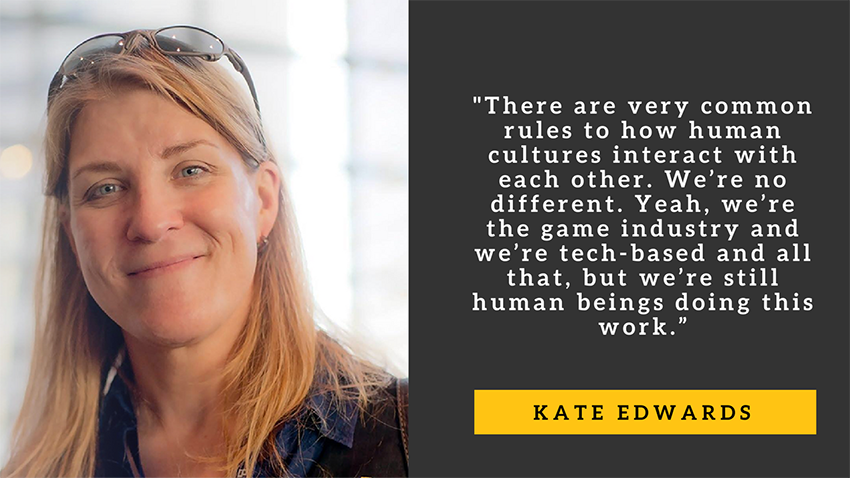 This week, VentureBeat spoke with the newest member of the Take This board of directors, Kate Edwards. They talked about the need for mental health advocacy in the game industry, the ongoing conversation about diversity in tech, and the trouble with the culture of crunch.
Kate has been pushing back against mandated crunch since long before she joined us — in fact, she collaborated with Take This on our Crunch Hurts whitepaper. In this interview, she shares her thoughts on the two major types of crunch.
In her experience, she's witnessed two different types of crunch: bottom up and top down. Bottom up crunch is when developers feel like they're in what she calls a "creative groove."

"That's where the developers are the ones who experience that, sometimes together as a group, and they say, let's just do this," said Edwards in an interview with GamesBeat. "Maybe they'll work really hard for a week to get this feature done. That's great. That should be encouraged when it happens, if you know it's happening."

Top down crunch, on the other hand, is damaging; it's mandated periods of time where developers are working 12 hours and up and forced produce creative output. Edwards says that it's not only harmful to the developers' health but also bad for productivity in general.

"You don't get that kind of creativity out of people that way," Edwards said. You just tear them down."

Head on over to VentureBeat for the full interview, and for more insights shared from Kate's extensive industry experience.