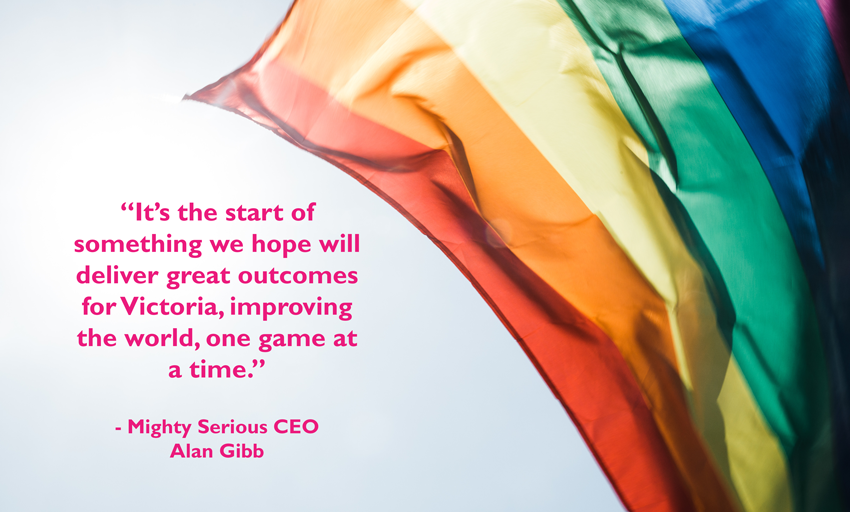 Australia's Mighty Games is known for cute, happy mobile games like Shooty Skies, Questy Quest and Charming Keep — light but lovely fare. With the launch of its new arm, Mighty Serious, it aims to also be a force for good.
It's working with the Victorian government, Victoria University and the Victorian AIDS Council to create an app that will combat homophobia. While we don't know what that app might look like yet, the team hopes to share the experiences of LGBTQIA people with players, and show them the prejudices and discrimination people in that community often face.
That discrimination can have devastating consequences, including violence, homelessness, and mental health problems. Conversely, acceptance — and particularly family acceptance — can help protect against depression, substance abuse and other bad outcomes LGBT youth.
So Mighty Games' new project will endeavor to help create more of that crucial support as part of its government's Creative State initiative, which supports creative projects that deliver social benefits.
"Creativity can play a powerful role in promoting understanding, and this project is one of the ways we are working to bring about positive social change for the LGBTI community and for all Victorians," explains Martin Foley, Victoria's Minister for Creative Industries and Minister for Equality.
This is the second step Mighty Games has taken to support the community recently. In September, the team updated their popular title, Shooty Skies, to encourage players to vote "Yes" in Australia's ongoing same-sex marriage postal survey. The uncertainty and hostility surrounding that survey has taken a mental health toll on many LGBTQIA people in Australia, so its great to see members of the game industry offering support.
"We've always been proud of our wonderfully diverse team, so it's important for us to encourage everyone to vote YES for love, acceptance and equality – in Australia and beyond," Studio co-founder Ben Britten said to Gizmodo Australia.
"All of our staff and our community are accepted and appreciated for who they are, and we want to make sure all Australians feel that same kind of love. So please, fill in your ballot and vote YES!"
Photo by Peter Hershey on Unsplash