Take This is pleased to announce it will be returning to PAX Prime with the "AFK Room," mental health awareness training for volunteer "Enforcers" and a panel on helping those with mental health issues.
Attendees who find that the hustle of the show is "damaging their calm" will find relief at the Take This AFK Room. The room will be staffed with volunteers and mental health care clinicians who can provide empathy and support for those in need, or information on how to help friends and family who are dealing with emotional issues.
The Take This panel will also be returning to PAX Prime."Take This: How to be a Friend" is scheduled for Friday, August 29th at 3:00pm in the Wombat Theatre. It is aimed at friends and family of those struggling with emotional issues. Friends and family are the first line of support, but don't often know how to broach sensitive subjects, or how to help those in need. While there is no one right technique for every situation, the members of Take This will offer some strategies that can help anyone be a better friend.
Look for Take This volunteer "Angels" at PAX wearing the the blue and yellow "wing" logo of Take This. 
PAX Prime attendees will also get first dibs on the new Take This "wings" T-Shirt. For a $30 donation, PAX attendees can take home this first-edition 100% cotton Tee in fetching teal with the Take This slogan "It's dangerous to go alone." on the front and the Take This "wings" logo on the back.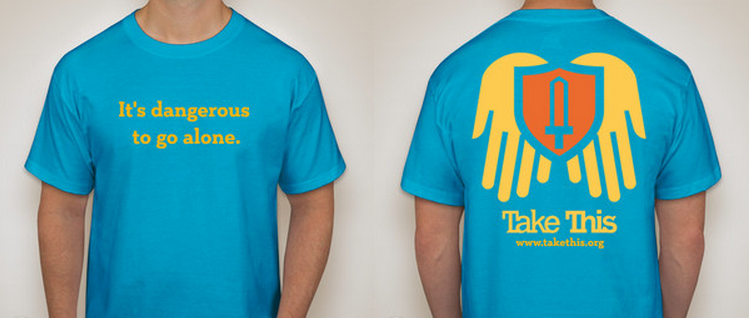 Take This will again provide mental health care and awareness training for PAX's volunteer "Enforcers," and will continue to work with the PAX organization to help increase awareness and empathy for mental health and other wellness issues throughout the show.
"PAX has been a huge part of the success of Take This in being able to reach those who need help dealing with mental health issues in the greater video gaming community," said Take This co-founder Russ Pitts. "It's an honor to be able to return to the show in an expanded role, and to hopefully help more people and spread more awareness about these very important issues."
PAX Prime 2014 will be held August 29 – September 1 at the Washington State Convention Center, which is conveniently located in downtown Seattle, Washington.
For more details, please visit the PAX East website:  paxsite.com