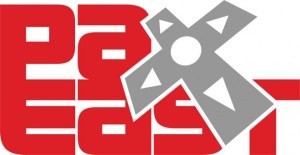 Team Take This has landed in Boston! We're ready for another exciting weekend of PAX East, and once again, we're hosting a panel. If you're here for the convention, stop by and see it!
On Sunday, 3/8, check out "When to Step Away From the Screen," presented by Take This co-founder Susan Arendt and Vice Chair Mark Kline. Want to know more? Ready on!
Geeks are passionate, opinionated, and determined, and the community to which they belong can become an important part of their identity. It's important to know when your online involvement is impacting your happiness, and take steps to take care of yourself. This panel will discuss how to recognize when being connected is doing more harm than good, and provide practical advice on what to do when things get too intense. Take This is a charity dedicated to increasing awareness and empathy.
You can catch "When to Step Away from the Screen" on Sunday, 3/8 at 2:30pm in the Bobcat Theater. And don't forget to visit Take This in the AFK Room and Diversity Lounge for merch, more information, or just to get a breather from the overwhelming show floor.
While Sunday's panel will not be filmed, our panel from PAX South in January will soon be available to watch online in its entirety! Stay tuned–and if you're in Boston this weekend, stay warm!