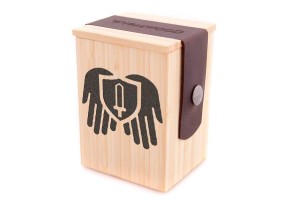 We're just a couple of days away from PAX East 2015! Take This is once again gearing up for a big PAX presence, and you'll find us out in full force in Boston this weekend. On top of the AFK Room, which gives people a place to go when they're overwhelmed by the sights and sounds of the show floor, we'll be in the Diversity Lounge all three days of PAX–and we're not coming empty-handed.
On top of the t-shirts and pins we sold at previous PAXes, we've got something extra-special: a limited-edition Magic the Gathering card box engraved with the Take This logo. The boxes are made of maple and come in two sizes, one for 100-card decks and another for 120-card decks.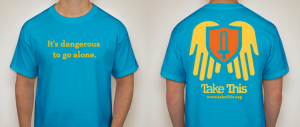 Also, this is your LAST CHANCE to pick up this shirt! We're bringing the last of our stock to PAX East and once they're gone, they're gone. We'll have different shirts and wares in the future, but this is the last time you'll be able to pick up this design.
Full prices:
Card box: $100
Shirt: $20
Pin: $10
Shirt AND pin: $25 ($5 off)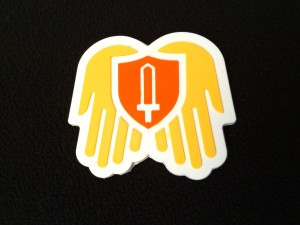 Many of you have asked how you could help Take This, so here's your chance! Stop by the Diversity Lounge and pick up a card box, t-shirt, or pin–or just make the donation of your choosing.
PAX East will be held in Boston March 6-8. We hope to see you there!