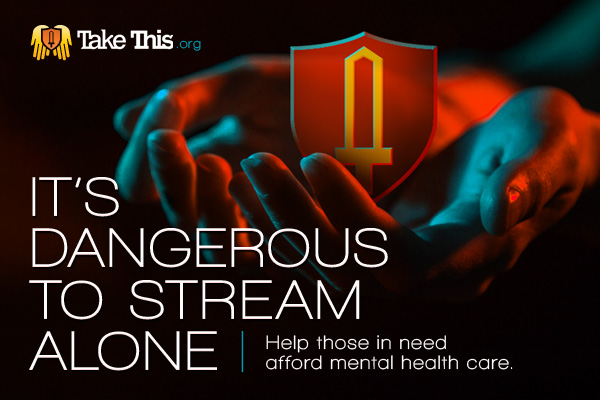 This year Take This is running it's second annual #TakeThisStream. Thirty-six hours, 30+ streamers, and anyone can join in.
What is it?
Take This will be streaming for the second year this holiday season. Starting December 28th at 12PM Eastern and ending December 29th at 11:59PM Eastern anyone can join Take This' It's Dangerous to Stream Alone fundraiser.
What's it for?
This year's fundraiser will help fund a new project for Take This: The Take This Scholarship Fund, helping people who can't afford it pay for mental health care.
According to our research, the cost of basic mental health care for an individual; can be as much as $10,000, and most health care plans in the US don't cover mental health. And most mental health care providers only subscribe to certain plans, if at all. Finding the right fit of a clinician who's right for you and takes your plan can be a daunting challenge.
Take This believes that people in need of mental health care should not have to go alone. The Take This Scholarship Fund will seek to provide grants in the amount of one year of mental health treatment to qualifying applicants.
Where do I watch?
Right here, friend, at the TakeThisOrg Twitch Channel.
How do I join?
If you want to join in, sign up now! It's easy, thanks to our friends at Tiltify. Anyone can be a part of our stream. And you don't have to wait! You can start streaming and supporting Take This today. To find out more, visit our Tiltify campaign page and click "CAMPAIGN FOR US".
More detailed instructions are here: How-to-Join-TakeThisStream2015_v4 (PDF)
Can I just give you money?
Yes!
Can't join the stream, but want to contribute? You can make donations from now until the New Year here: bit.ly/TakeThisStreamDonate