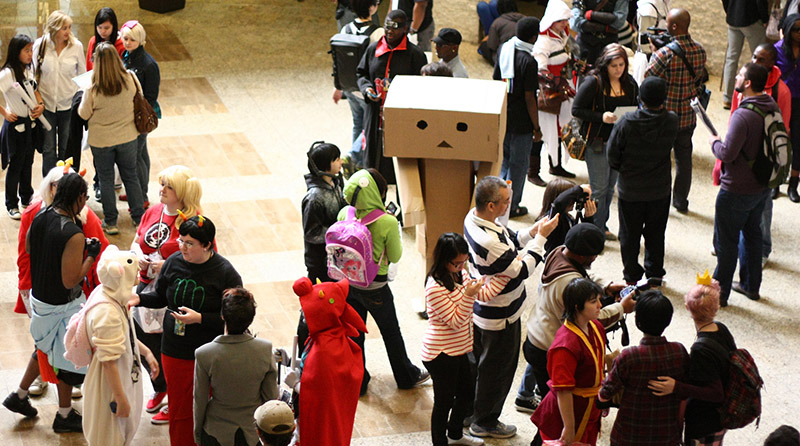 MomoCon 2013 shared by LaMenta3 under a Creative Commons ( BY-SA ) license
As part of our mission to bring the AFK Room to every convention that could benefit from the program, we're proud to announce that this year, Take This is coming to MomoCon.
MomoCon is one of the fastest-growing all-ages conventions in the United States. Last year's convention was attended by over 22,000 fans of anime, video games, tabletop games, comics, and American animation. It couldn't be a better fit for our program.
"We found Take This at other cons, saw the good they were doing, and just felt it was a natural "a-ha" moment," said Jess Merriman, founder and co-chair of MomoCon. "Tens of thousands of fans is an overwhelming experience for anyone, and we have to be cognizant of the issues facing our attendees, make sure no one gets lost in the crowd."
With the presence of the AFK Room, MomoCon attendees who are coping with mental health issues will have a safe, quiet space to go, staffed with volunteers and clinicians who can answer their questions and offer the support they need. No one should have to go alone, whether they're dealing with anxiety, social discomfort, harassment, dysphoria-related issues, or other challenges.
MomoCon takes place over 4 days, May 26th – 29th, at the Georgia World Congress Center in Atlanta, GA.
Along with MomoCon, we'll be bringing the AFK Room to PAX South, PAX East, PAX Prime, PAX Aus and QuakeCon this year, so if you'll be at any of those conventions and you'd like to volunteer, drop in and say hi, or learn more about Take This, we're looking forward to seeing you. And of course, if you need some time out of the hustle and bustle of con life, everyone's always welcome in the AFK Room.