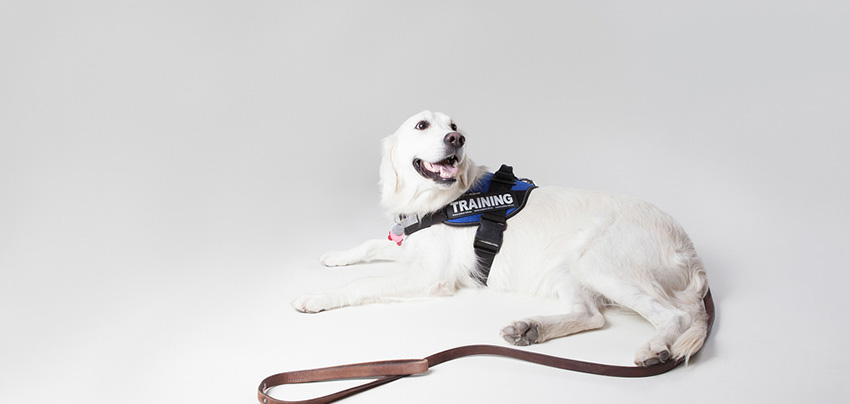 Image Credit: Found Animals Foundation
Last week, Republicans introduced a bill with what has to be one of the best backronyms to ever reach Congress: PAWS – the Puppies Assisting Wounded Servicemembers Act.
But it's not just a perfect name – it's also a wonderful idea. The PAWS Act would provide funding and direction for a pilot program with the Department of Veterans Affairs (the VA) to provide service dogs to some veterans with severe PTSD.
The bill was introduced by Rep. Ron DeSantis (R., Fla.), who has been working with service members like Corporal Cole Lyle. Cpl. Lyle has a service dog of his own and spoke to The Washington Free Beacon about why he has helped push for the creation of the bill.
Corporal Cole Lyle, a major proponent of the bill who served six years in the Marine Corps, said Kaya, his service dog, helps him overcome the struggles of PTSD on a daily basis. "I deployed out of Camp Lejeune in North Carolina, and served with ISAF forces in Helmand province," he told the Washington Free Beacon. "The difficulties I had transitioning back into civilian life stemmed out of roughly the last two months of the deployment, when I was volunteering at an understaffed trauma hospital in my spare time on base. When I got home, I would have recurring nightmares and anxiety attacks."

"Kaya is trained specifically to jump up in bed and wake me up from nightmares or to lick my hand or face to remind me to remain calm in the early stages of an anxiety attack, effectively neutralizing their ability to snowball."
Cpl. Lyle went on to point out that there are nonprofits who provide service dogs specifically to veterans – like K9s for Warriors – but that the demand far outweighs the nonprofit sector's ability to keep up. The bill would allow the VA to spend up to $27,000 in procuring and training each dog, and would provide a $10 million budget to the program for each year of its five-year trial.
The program would also provide lifetime health insurance for its service dogs so long as the veteran in question continues to check in with a VA physician at least once every quarter.
If the bill passes (it has only been referred to the House Committee on Veterans' Affairs so far), veterans who served on or since 9/11 will need to meet several other criteria to be eligible under the PAWS program. They will need to be diagnosed with PTSD with a severity level of 3 or 4 on the Clinician-Administered PTSD Scale for DSM–5 (CAPS–5) – those are ratings of severe/markedly elevated and extreme/incapacitating. They will also need to have received appropriate treatment without experiencing satisfactory improvement.
The VA is currently working with researchers from Purdue University on a three-year study looking at the effectiveness of service dogs for PTSD. The PAWS program would add to its understanding of service dogs for PTSD as well, with mandatory program evaluations that would look at whether the service dogs improved the lives and symptoms of the participating veterans.