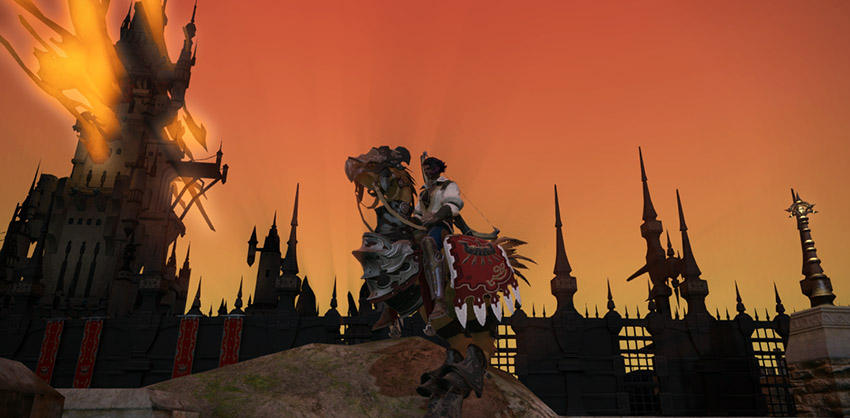 More often than not, when MMORPGs are talked about in relation to mental health, it's not in a positive manner. Studies tend to focus on the problems that relate to playing MMOs excessively: addiction, social anxiety, and psychological distress, among others.
But there are millions of MMORPG players in the world, and nearly as many reasons for playing. As Ashe Samuels writes for The Ontological Geek, they can also be comforting when your options for comfort are limited.
Not every­body has steady access to cog­ni­tive behav­ioral ther­apy, med­ica­tion or even a part-time job that can give their symp­toms a lit­tle lee­way. Building and stock­ing your men­tal tool­box is not a lux­ury — it's a neces­sity to just live your life.

Getting to that some­where bet­ter when you're broke and sad and strapped for time is a rhetoric any­one men­tally ill can relate to with gusto. For me, it means I'm tired. I'm always tired. Sometimes it's all I can do not to suc­cumb to the nigh-constant suck­ing of my energy and crawl into bed twice per day. Getting out of said bed can be even harder. Following through with my projects, my pas­sions, can be the hard­est damn thing around. When I boot up my PC and open up Final Fantasy XIV : A Realm Reborn or World of Warcraft these MMOs act the part of a com­plex and shiny placebo, invit­ing in my will­ing­ness to put real­ity on hold and reward­ing me emo­tion­ally for doing so. Distraction is some­thing I need to ward off gru­el­ing panic attacks and a lit­tle emo­tional invest­ment with­out a lot of work can keep me from nap­ping for two hours. Even tak­ing on the avatars of a badass cat girl dra­goon or a shapeshift­ing magi­cian who gar­ners the respect of nearly every char­ac­ter she comes across works as a salve for the raw blis­ters soci­ety has given me.
What works for Samuels won't work for everyone, and self-medication is always a risky undertaking. For Samuels, though, MMORPGs aren't a drug–they're a point of connection and distraction during difficult times. For me, MMORPGs bring routine and a feeling of productivity even when I can't seem to get anything done in reality.
In large enough doses, that can certainly become unhealthy – but as Samuels goes on to explain, there's a lot to be said for indulging in fantasy from time to time.