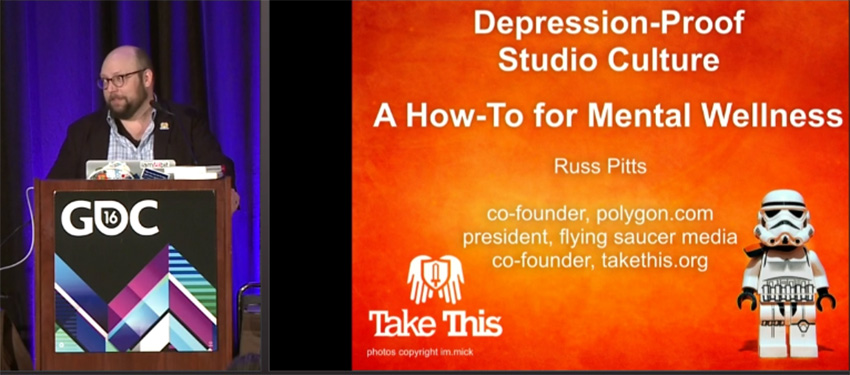 Full disclosure: we're a little biased about this one. Our co-founder Russ Pitts spoke at GDC 2016 last month, sharing his insights and advice about mental health and game development. At a time when crunch is once again on everyone's minds, Russ laid out a plan for building a studio culture that encourages employees to be mentally healthy rather than encouraging them to burn themselves out.
Now that talk, Depression-Proof Studio Culture: A How-To For Mental Wellness, is available to everyone online. It's up in the GDC Vault, on the free-access side of vault's paywall.
Russ offers advice for management and individual workers alike, both for building a healthier culture and for living healthier lives. For managers, he recommends ways to create an environment where people feel comfortable asking for help if they need it. For individuals, he offers suggestions for how to create a physically and mentally healthy work environment for yourself and your coworkers.
Here's the overview, direct from GDC:
One in four adults in America experience some mental health issue due to factors such as long hours, workplace isolation, and transitory employment. Due to the nature of highly technical and creative work, that figure is higher in the games industry. Possibly as high as 50%.

Mental health issues accelerate burnout and drain productivity. Depression alone accounts for over 200 lost workdays a year, at a cost of billions of dollars in productivity.

Game studio culture can accelerate or exacerbate symptoms of mental illness, and many emotional ailments can worsen in the game industry workplace, resulting in tragic outcomes.

This 1-hour lecture will offer simple, effective advice on how too de-stigmatize mental health issues in your studio; help yourself and others create a positive work experience; effectively reach to those who may be suffering silently; and create a culture with a positive resistance to mental health issues.

If you work in the games industry, there's a good chance you've worked with people who are coping with mental health issues–whether you know it or not. This talk offers a set of tools for helping the people around you without doing harm in the process, even if you haven't dealt with these issues yourself. It's often easier than you might think–sometimes people just need to know that they aren't alone.