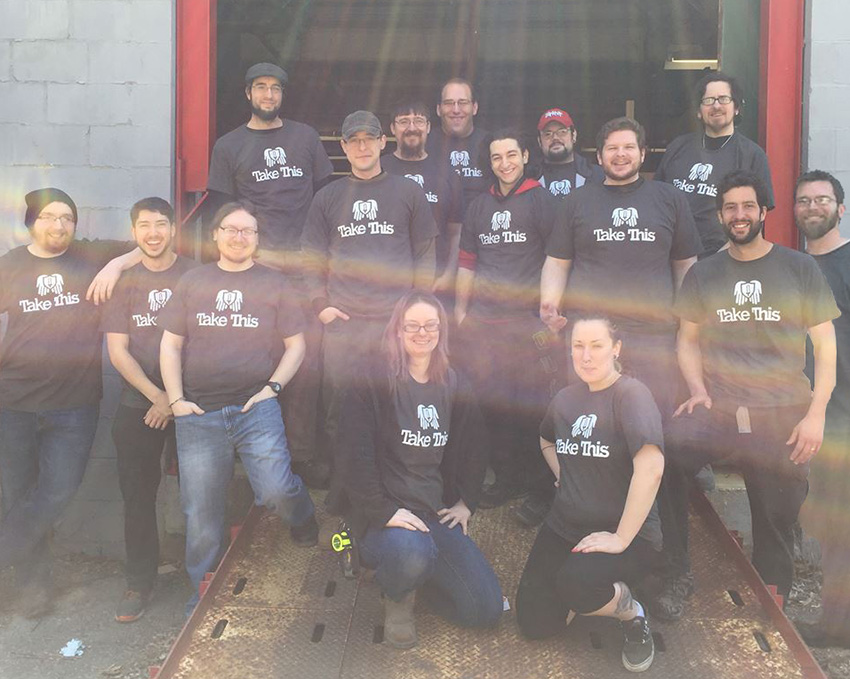 The team at Wyrmwood showing their love for Take This.

All of us at Take This would like to say a big thank you to the folks at Wyrmwood as they're off at PAX East helping raise funds for our mission with the Box of Hope. They've been delightful to work with on this project, and they've been unflaggingly generous sponsors for our endeavours in the past, too.
Wyrmwood's co-owner, Eric Dupuis, had some kind words for us on the launch of the Box of Hope:
Take This does the very important work of giving people a safe space to share what is happening in their lives. They've made it okay to say, "right now I am not okay and I need help."

Too many lives go by silently suffering and it is because of groups like Take This that hope can be shared. This is why we wanted to create something unique that supports their work."

We love the Hope Shield they've created, and we hope you do too. It means a lot to us to have the support of the kind folks at Wyrmwood, so thank you, Wyrmwood–and thanks to everyone who generously supports our mission to fight mental health stigma in the gaming community.