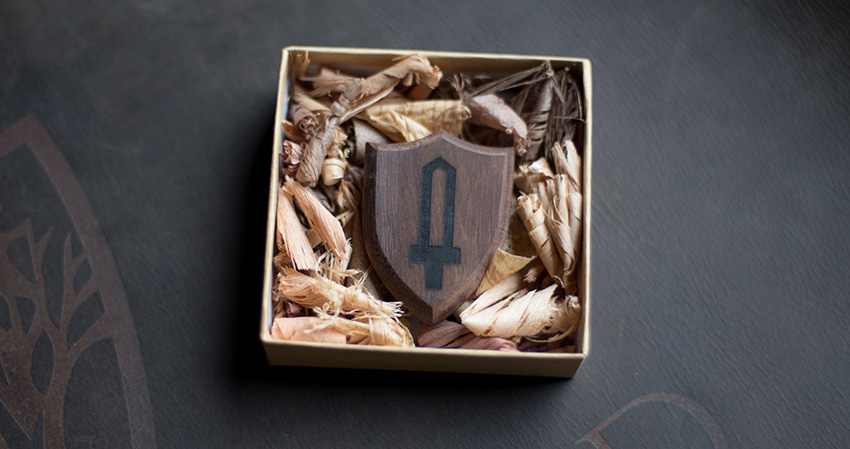 We're off to PAX East this weekend, and we're bringing something special with us: the Box of Hope.
We don't bear that hope alone, either. Wyrmwood, creators of beautiful hardwood deck boxes, dice vaults and other tabletop gaming accessories, have joined forces with us to create the very first Box of Hope. Inside, you'll find the Hope Shield, a token of kindness that you can carry with you or share with someone in need.
It's meant as a remembrance of those no longer with us, and a reminder to take the time that we need to care for ourselves–a reminder, as well, that we're not alone when life is hard.
Eric Dupuis, co-owner of Wyrmwood, reached out to our co-founder, Russ Pitts, earlier this year. Eric had recently suffered a tragic loss in his own gaming community and wanted to find a way to further support our mission.
"One of the most important decisions anyone can make is to face their mental health struggles with support," he explained. "As a child, I witnessed first hand how these struggles affect everyone in a home, not just the sufferer. From my immediate and extended family, I witnessed two paths – how things can get better with support and how the cycle of suffering continues when action is not taken."
The Box of Hope is one way to show support. In Russ's words, "Too often we see people who are suffering, or people we know in our daily lives who could use a measure of support, and we just don't know how to start that conversation. The Box of Hope can be a conversation starter. And a concrete gesture of love and support."
Each box contains a single Hope Shield, along with information about its meaning. Every one of the shields is a lovely object to carry with you, and a few are even lovelier: a random selection of the Boxes of Hope contain legendary shields with special inlays.
The Box of Hope can be purchased both at our table at PAX East's Diversity Hub and Lounge, Room 151AB, and at the Wyrmwood booth, C1106 in Tabletop. They cost $20, with all proceeds going to support our work to reduce the stigma of mental health issues. We'll also be raffling a gorgeous pearl inlay Hope Shield and a special Wyrmwood Deck Box at the convention, so don't forget to visit our table to enter.
Sometimes everyone needs a reminder that they're not alone–we hope these shields can be that for some of you.