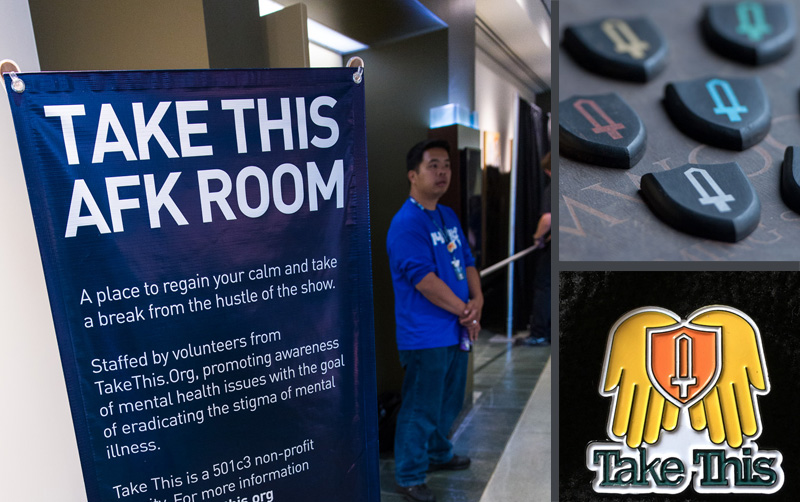 Off to PAX East? We'll be there, so come by our table and say hi!
If you feel overwhelmed by the show and need a break in a quiet environment, you're always welcome at the AFK Room. If you're not familiar with the AFK Room, it's a safe, quiet space that's always staffed with clinician volunteers who are ready to help you if you need some support. It's the perfect place to de-stress away from the overwhelming spectacle and crowds of the show. Our mental health clinicians are also equipped to help with any immediate mental health crises that come up.
The AFK Room can be found on Level 2 of BCEC, in Room 251. That's right next to the Dragonfly Theatre.
The hours for the AFK Room are as follows:
Friday, April 22: 11 a.m. to 7 p.m.
Saturday, April 23: 11 a.m. to 7 p.m.
Sunday, April 24: 12 p.m. to 6 p.m.
If you just want to say hi, show your support or pick up some of our great merchandise, come visit us at our table in the Diversity Hub Lounge (DHL). Our volunteers will have more information about Take This, and you can purchase our apparel, enamel pins and the newly announced Box of Hope. We'll be raffling off a particularly gorgeous pearl-inlaid Box of Hope and Wyrmwood Deck Box there as well. You can find the DHL in Room 151AB on Level 1 of BCEC, next to Riot Games.
Our friends at Wyrmwood will be selling the Box of Hope at Booth C1106 in Tabletop, next to the Queue Room on Level 0, so be sure to pop in and give them some love, too.
It looks like it's going to be a great weekend–we can't wait to see you there!