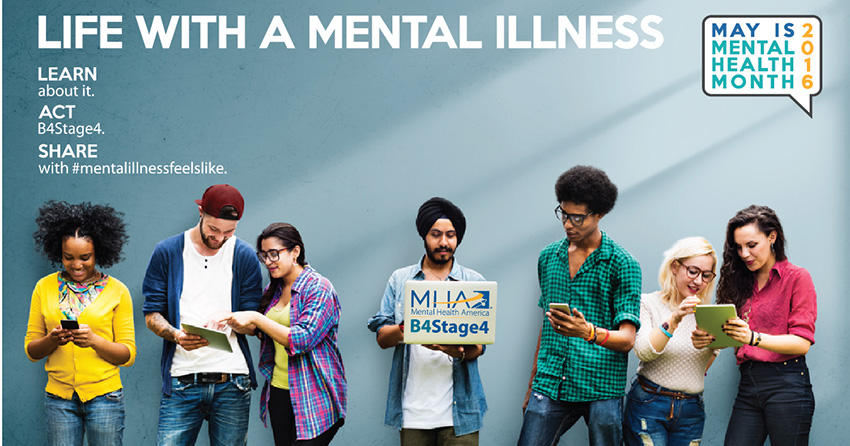 May is Mental Health Awareness Month in the U.S., and Mental Health America is spearheading awareness efforts with a social media campaign and a month-long plan for better mental hygiene.
#MentalIllnessFeelsLike is the hashtag of choice for the campaign. It's an effort to encourage people to share their own takes on mental health issues:
Clinical terms are the words used by doctors and other professionals to describe the symptoms of a disorder, but often times those words don't do justice to what life with a mental illness feels like.

We know that two people with the same diagnosis can experience the same symptom and describe it in very different ways. Let's take fear for example: one person might describe fear as being scared to the point of feeling paralyzed, while another might describe fear as an overwhelming urge to run away. It can be confusing to align your personal experience with mental illness to clinical criteria, and sometimes contributes to ongoing silence or hesitation to get help. It's important for people to talk about how it feels to live with a mental illness.

This May, MHA is calling on you to share what life with a mental illness feels like – we want you to speak up, to share your point of view with people who may be struggling to explain what they are going through—and help others figure out if they too are showing signs of a mental illness. Sharing is the key to breaking down negative attitudes and misperceptions surrounding mental illnesses and to showing others that they are not alone in their feelings and their symptoms.
The organization is gathering posts with the #mentalillnessfeelslike tag from Twitter and Instagram, and also offering anonymous submissions on its website.
While you're there, take a look at Mental Health America's 31 Tips to Boost Your Mental Health–one for each day of the month. It's no comprehensive treatment plan, but it does include some great ideas for improving your general well-being.