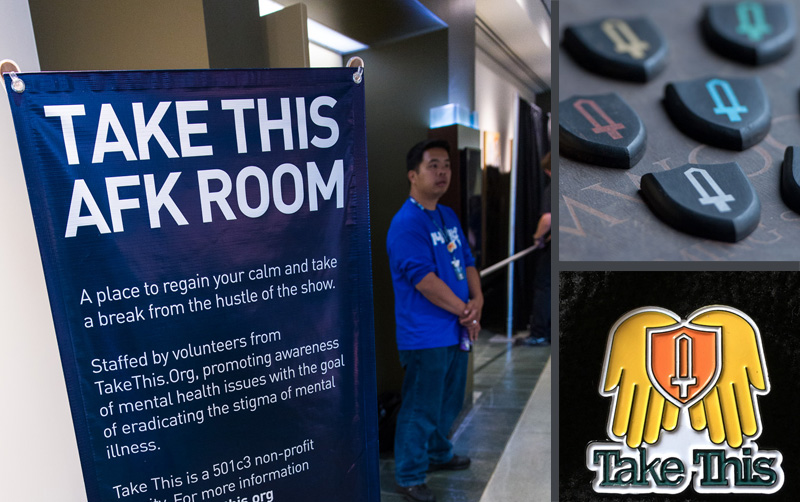 Headed to MomoCon this weekend? Good news: we'll be right there with you.
For the first time, Take This is bringing the AFK Room to MomoCon. Whether you need a quiet breather from the busy show, a safe place to ground yourself while coping with mental health issues, or assistance from our volunteer clinicians, you can come up to Room A407 in Hall A on Level 4 of the Georgia World Congress Center to find what you need.
We're thrilled to be able to offer the benefits of the AFK Room to MomoCon attendees. MomoCon's inclusivity and passion make it a perfect fit, and we're honored to be part of its community. As our co-founder Russ Pitts points out, "Helping MomoCon goers by offering a place where they can temporarily escape the energy and stimulation of the show, and helping MomoCon attendees and staff gain a better understanding of the healing power of hope and the benefits of mental wellness is a natural extension of the Take This mission."
We'll also be bringing some merchandise with us, including the limited edition Box of Hope. If you've been wanting to get your hands on a Hope Shield, they'll be available at our merch table at OT5 in the Organization Tables in the Dealers Room on Level 1. They cost $20, and one Box of Hope out of every hundred contains a legendary Hope Shield crafted from Gabon Ebony and featuring a rare inlay.
At the time of writing, there are also a few Hope Shields still available online at Wyrmwood, if you won't be able to make it to the show.
If you like the work we're doing and you want to help us bring the AFK Room to more events, we welcome volunteers, donations, and of course, help in spreading the word. And if you'll be at MomoCon, be sure to stop by the merch table to say hi – we're looking forward to seeing you there.