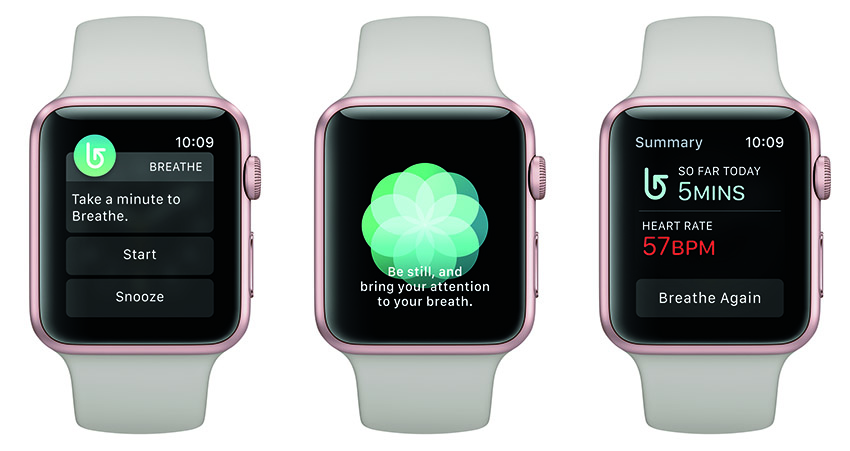 The Apple Watch is already a fairly formidable health device, and Apple plans to keep that up with the newly announced WatchOS 3. One of the three major new health features listed during yesterday's Apple WWDC keynote is Breathe, an app that is intended to help you breathe deeply.
Here's Apple's statement on the app:
The all-new Breathe app encourages users to take moments in their day to do short deep breathing sessions. The beautiful, calming visualization and haptic cues guide users through deep, full breaths in sessions lasting one to five minutes and on completion, they will receive a heart rate summary.
There are plenty of deep breathing apps out there, which is wonderful — deep breathing has benefits for physical and mental health. Breathe has a few major advantages, though. Because it's on your wrist, it's easy to access. The heart rate sensors allow you to see the impact of deep breathing. And haptic feedback could be easier to follow in situations where visual cues aren't sufficient.
As nice as it is to see a mindfulness app like Breathe highlighted in Apple's keynote, it's just one of the company's enhancements to the WatchOS health suite. When Watch OS3 comes out this fall, it will also allow users to share their activity metrics to compare and compete with friends and family. It will also include improvements for wheelchair users, tracking the contributions of wheelchair pushes to calorie goals, adding wheelchair-specific workouts, and trading the unhelpful "time to stand" prompt for a "time to roll" prompt.
If you have an Apple Watch, it looks like you'll have more help than ever staying active this fall.