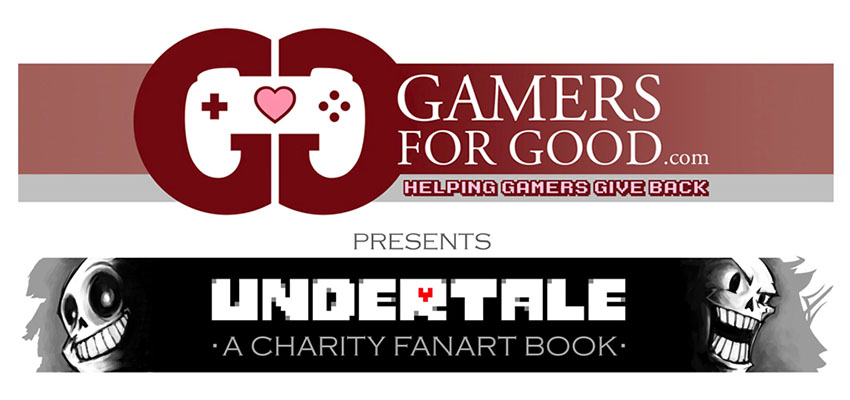 Do you find yourself filling sketchbook pages or hard drive space with Sans, Papyrus, Mettaton, and friends? If so, this is the perfect opportunity to get your work out there and support three great causes in the process (including ours!).
Gamers For Good is producing a charity artbook of Undertale fanart, and it's inviting everyone to take part. Submissions are already open, so if you have the perfect piece, you don't need to wait — you can send it in right away.
Here's what Gamers For Good has to say about the project:
With the participation and fundraising success of our last charity artbook, Gamers for Good is ready to do it again. This time around with Toby Fox's blessing, we will be producing an Undertale Charity fan art book (Book Name TBD). Undertale challenged the way we as gamers played games, primarily what we thought was the standard way to play. It got us all talking, removing the "META" barriers, resulting in a deeply emotional experience.

Gamers for Good wants to challenge how the world thinks about mental health, remove the stigma. The proceeds of the Undertale Charity Fan artbook (Name TBD) will benefit three incredible gamer related charities who are working in the mental health space.
Those three charities include Take This, Child's Play, and Anxiety Gaming — organizations close to our hearts, as well as our own.
Gamers For Good previously created the Gamer For Life artbook, a book that supported cancer research in memory of a colleague who has passed away. That book collected art from all of that colleague's favorite games, and its Indiegogo campaign blew away its goals.
A big part of Undertale's ethos is that we all have the power to make the world better, or worse, through our actions, so I can't think of a better game to center a charity artbook around. We'll have more information about submission dates and how you can get your hands on one of the books when they're ready to go, but for now, it's time to start creating if you want to take part.