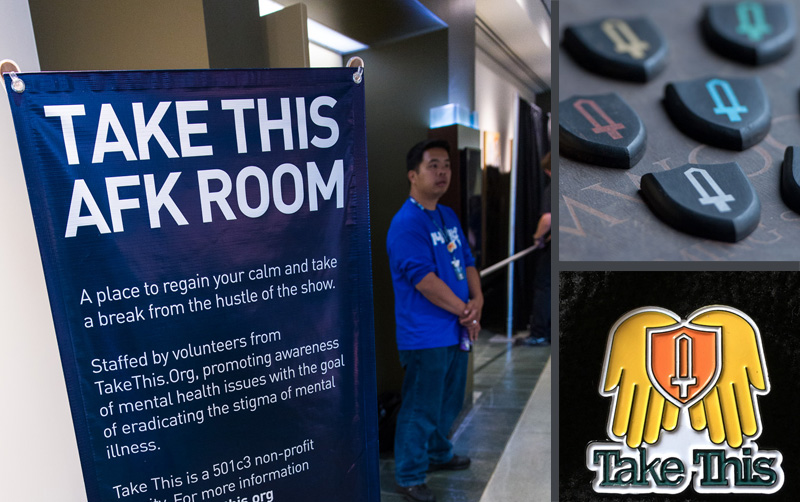 E3 is a thrilling event, one that will have many of us glued to livestreams and gaming sites for the next few days. But if you're attending the event and all the excitement gets to be a bit much, Take This will be there to help.
We're bringing the AFK Room to E3 for the first time, so whether you're working a booth, covering the show, or otherwise involved in the E3 experience, we'll have a safe, quiet space available for you to decompress. If you're coping with mental health issues, we have clinician volunteers on hand to help — if help is what you're looking for. If you just want quiet, we offer that too. No judgement.
You can find the AFK Room in room #407 on the second floor of the Los Angeles Convention Center — right next to Deep Silver and Tencent on the Concourse. The hours for the AFK Room are as follows:
Tuesday, June 14: 2 p.m. to 5 p.m.
Wednesday, June 15: 11 a.m. to 5 p.m.
Thursday, June 16: 11 a.m. to 4 p.m.
We'll also have a merchandise booth outside the AFK Room, so if you want to say hi, donate to our mission, or purchase a Box of Hope or Take This pin, you can find us there. Our merch booth will be open for E3's show hours:
Tuesday, June 14: 12 p.m. to 6 p.m.
Wednesday, June 15: 10 a.m. to 6 p.m.
Thursday, June 16: 10 a.m. to 5 p.m.
While we welcome everyone to the AFK Room, please remember that we have a few rules – so please don't bring food or take photographs in the room, and please keep your voices low and your devices on silent. That way, we can offer everyone a place to catch your breath, regroup from the overstimulation, and gather your strength until you're ready to get the most out of everything E3 has to offer.