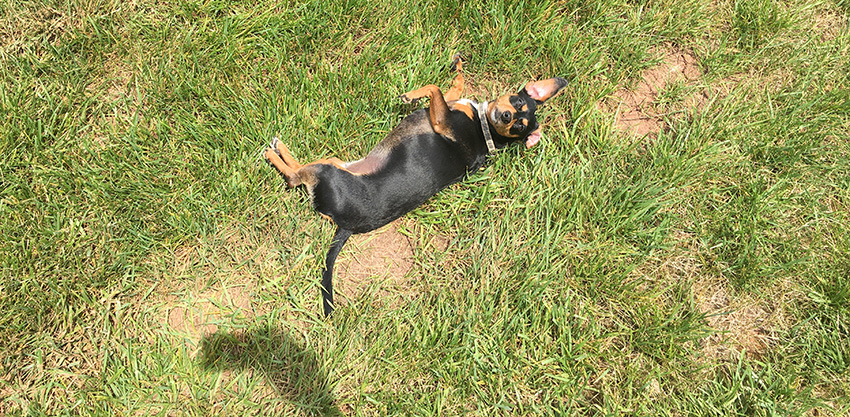 Allow us to introduce Bridget, one of our president and co-founder Russ Pitts' quality pups.

Welcome to our weekly INT boost, a collection of the best mental health-related (or adjacent) stories you may have missed this week. This week is, unfortunately, another week where the bad news may be feeling like too much. If it is, remember to take care of your own health, and help others if you can.
---
"Dr. Freeman moved the emphasis of his store from retail to afterschool activities for local children. But this would not just be a supervised game time at the local game shop. No, Dr. Freeman brought his neuroscience background to bear. 'I started the afterschool program based on developmental brain areas. We were going to focus exclusively on one area, and get sequentially more difficult.' For example, 'One of the sequences we did started with nonverbal games and then worked its way into verbal games.'"
Much like our own Dr. B., Dr. Freeman uses games like Dungeons & Dragons to help kids develop skills that will develop them through their whole lives. Geek & Sundry has more.
---
"The Helping Families in Mental Health Crisis Act, introduced by Rep. Tim Murphy (R-PA), a licensed child psychologist, would potentially address a nationwide shortage of psychiatric beds and child psychiatrists, in addition to creating the federal position of assistant secretary for mental health and substance use disorders, to be filled by a licensed psychiatrist or psychologist and take over the responsibilities of the administrator of the Substance Abuse and Mental Health Services Administration."
While the Helping Families in Mental Health Crisis Act isn't without its critics, it's endorsed by the American Psychiatric Association. As Time explains, it's one of two mental health bills making their way toward becoming law, assuming the Senate passes them.
---
9 Lies My OCD Has Told Me
"When everyone else in my house was asleep, 8-year-old Lily felt she had an important job to do. I would creep into my sister's room in the early hours of the morning and perform my compulsions at her bedside. I would check her pulse and count her breaths. It never occurred to me that she might be able to get through the night without me."
Sure, this article has a snappy, clickbait title, but don't give it a pass on those merits. Buzzfeed contributor Lily Bailey explains how OCD has made her fixate on things far more unsettling than whether she locked the front door or whether the objects on her desk are set at perfect angles — things like being damned, people she loves dying on her watch, and worse.
---
"'It's quite rare that cognitive behavioral therapy becomes an effective preventive intervention,' said Bar Haim. 'The ability to raise the soldier's mental strength and lowering his risk of PTSD is wonderful news, and puts the army on forefront of preventive medicine in the field of mental health in the world.'"
It's not exactly a game, but a digital training program developed by Tel Aviv University may be able to keep a significant number of soldiers from developing PTSD. The Jerusalem Post has more.
---
[font_text link="" icon="star" color="dark" size="small" border="off" spin="off"]Content warning: discussion of disordered eating strategies.[/font_text]
"In my later teens, I used extreme dieting as an attempt to medicate my anxiety. What better place to put free-floating fear of the infinite unknown but into the tangible math of counting calories. It was a gradual subtraction, wherein I continually cut calories each week. I developed strange behaviors like stealing food and throwing turkey slices out of car windows when they exceeded my allotted portion. When the calories started counting me, I was no longer dieting. I was anorexic."
In this So Sad Today article onVICE, the author discusses how using an effective but unhealthy coping strategy to handle her anxiety eventually turned against her, leaving her relationship with food a major source of suffering.
---
And with that, we're off! Have a good weekend, take care of yourself, and remember — whatever you're going through, you're not alone.