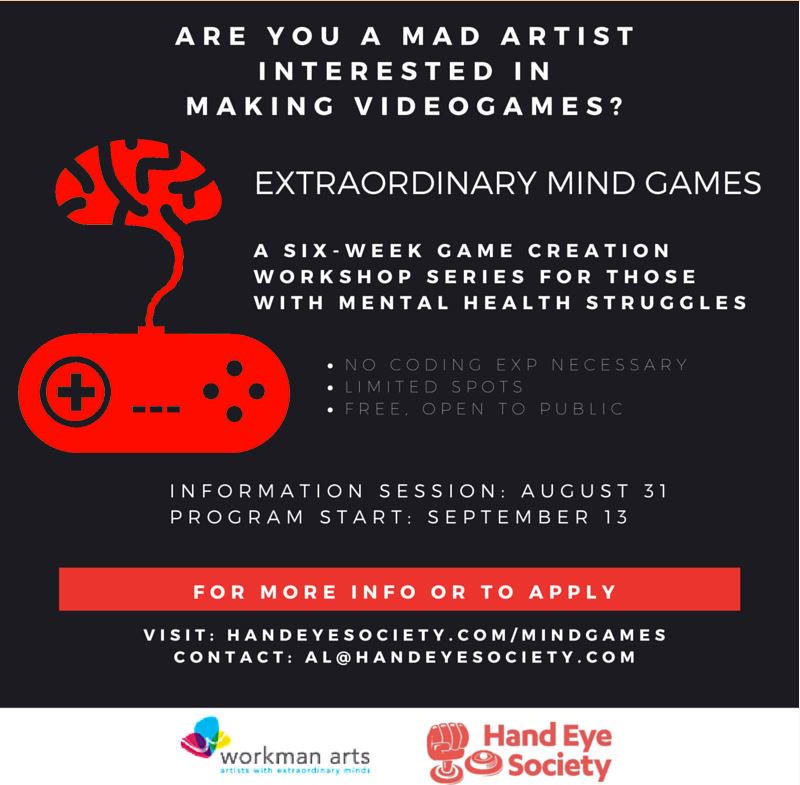 For six weeks, starting on September 13, Workman Arts and the Hand Eye Society are offering an amazing opportunity: Extraordinary Mind Games, a free game creation workshop intended specifically for people who have lived experiences with mental health or addiction.
The workshop takes place at Workman Arts in Toronto, Canada, and you'll need to be able to attend seven in-person sessions to participate. There are only six available spots, but don't self-reject. If you're interested and available, it's well worth applying to participate.
Here's what Hand Eye Society has to say about the workshop:
This program is a free six-week videogame creation workshop for individuals who identify as Mad or who have lived experiences with mental health or addiction. Participants will meet once a week for this 6-week facilitated and themed workshop. Led by two program coordinators facilitated by the Hand Eye Society, these workshops will touch upon everything it takes to create various types of video games. With help from facilitators, guest speakers, mentors, peer support and access to free or low-cost game-making resources, participants will be able to channel their own artistic practices to make their own game.

At the end of the six-week program, the final games will have the opportunity to be showcased at the Rendezvous With Madness Film Festival, November 4-12. Rendezvous With Madness is a festival that investigates the facts and mythologies surrounding mental illness, with filmmakers from Canada and beyond.
You don't need to disclose any diagnosis to participate, and you don't need any prior game-making experience. You do need to apply before September 2nd and attend an information session on August 31st, so you shouldn't delay if you're interested in participating.