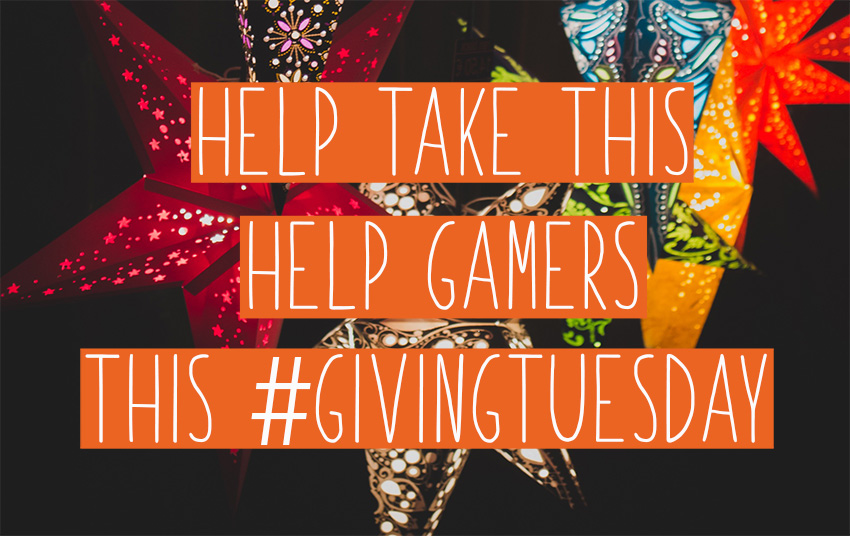 Update: Donations through our Facebook campaign today will be matched by the Bill & Melinda Gates Foundation, up to a total of $1000.
The turkey leftovers are done, the sales are over — sounds like it's time for the season of giving to begin. Before we start thinking about what to put under the tree, Giving Tuesday asks us to think about how we can help each other in bigger ways.
Take This is planning another big year of helping gamers, and we'd love it if you wanted to be a part of that. The best thing you can do to support our cause is to reach out to your fellow gamers and game developers, particularly those who are having a tough time this holiday season, and let them know they aren't alone. We have resources that can help, like the posts on this blog, our series of articles from clinicians and other mental health experts, and personal stories from others who've been through similarly hard times (if someone's in a crisis, though, please help them find a help line or a professional to who can talk to them).
If you want to support our mission of helping gamers and others in the game industry directly, there are a few ways you can get involved. We always need volunteers for our AFK Rooms and booths at conventions, so if you attend gaming conventions or live in the regions we serve, signing up to volunteer is a great help.
Donations are very appreciated — it's only through the generous donations of our supporters that we're able to offer programs like the AFK Room. You can also help us keep the AFK Rooms well stocked for the gamers that need them by purchasing items on our Amazon Wishlist.
The foundation of the Take This mission is the idea that hope is healing, so there's one more way you can help: share your story. If you have experience with mental health issues and can offer a hopeful perspective, that can do more to help than just about anything else. Sometimes all it takes for someone to feel a bit better is to know that other gamers or other game developers have gone through something similar and made it through.
It's dangerous to go alone, so we're thankful that we have your help bringing hope to gamers everywhere.