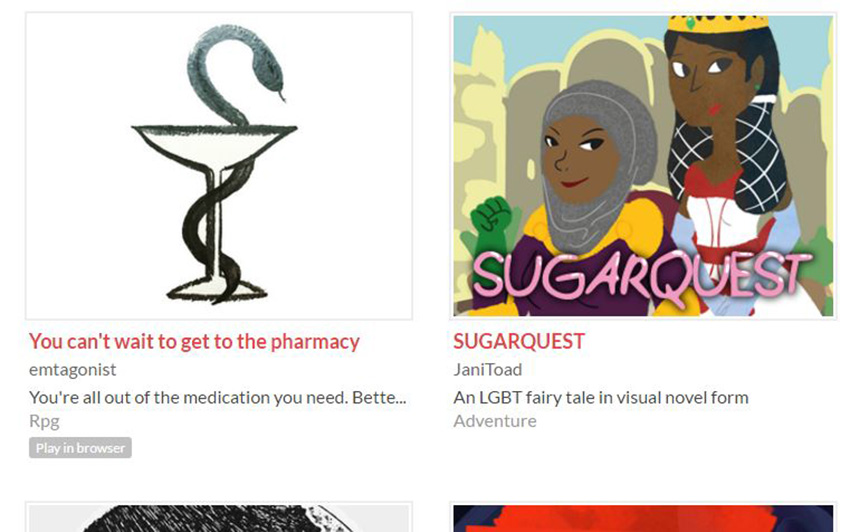 Waiting is a pretty popular game mechanic. Half the games on my phone are built on keeping me waiting until I get impatient enough to throw down a dollar or two to speed them up. But the games made for last month's One Day Jam take waiting much further, exploring the challenge and frustration of always being told that life is going to get better — one day.
Jam organizer Zoyander Street explained the reason for the theme:
Trans people are often forced to play a long waiting game. Huge numbers of us are waiting for healthcare. The targets of transphobic legal and social systems are waiting for justice. The rest of us are waiting for cultural change. The more intersectionally disadvantaged you are, the longer the wait could be, and economically disadvantaged trans people have far fewer means for having their needs addressed.

Too many trans people have little choice but to live for that "one day" in the unknown future, when they will be able to live authentically, in a body that feels right, and in a society that treats everyone with respect and care.

Street took the games that were created for the jam and put them together with some extras for the Action for Trans Health Bundle. For the next 12 days, you can pay what you want for 17 games, resources and experiments –some with trans or lgbt-related themes, some about health, mental and otherwise, and some simply about waiting. They aren't all finished, and some contain potentially triggering material, so play with as much caution as you need.
Proceeds from the bundle go to Action for Trans Health, a U.K. organization that helps trans and gender variant people access healthcare treatment, including mental health treatment, when they would otherwise be unable to do so.