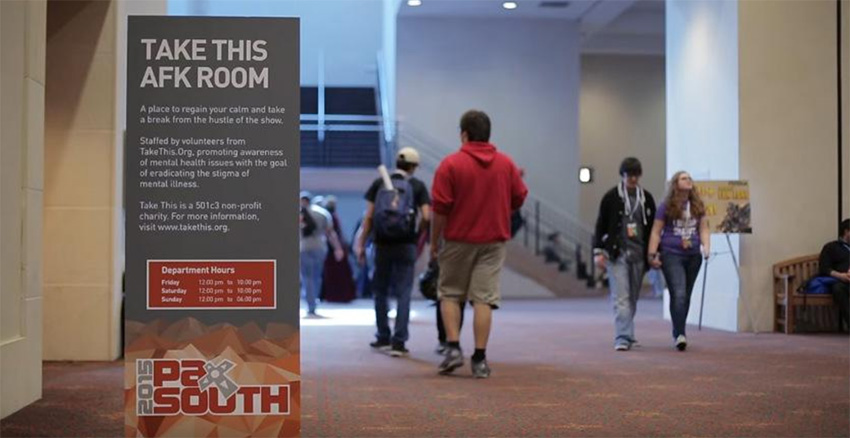 Recently, Joe Donnelly of Waypoint (formerly VICE Gaming) sat down with our co-founder Russ Pitts and co-executive director Shannon Gerritzen to talk about Take This: our history and our mission (which you're probably familiar with if you're a regular visitor to this website), and also our future, which includes some new and uncharted territory.
As a four-year-old non-profit organization that started out with modest expectations, much of said moving forward has been spent "building backwards" says Pitts. "Now that we have that, the future is to grow everything," he adds, which is where projects like the Underground Consulting Program come in.

Depression-proofing studio culture is something Pitts takes seriously and is a subject he's lectured on at the Game Developers Conference on numerous occasions. His feedback his been consistently positive, so he's extended the opportunity into brick and mortar studios. This has seen Take This working alongside management consultants and a workplace organizational-industrial psychology expert who has worked with the likes of NASA.

Ultimately, the program seeks to converse with people in the workplace, examine the issues, and work together with staff and directors to find solutions. It addresses the issue of "crunching", where devs work long hours of unpaid overtime, and has even led to the publication of a white paper for the International Game Developers Association (IGDA).

"We have thrown an overwhelming [amount of] science at this idea that workspaces can both contribute to mental health issues and also alleviate them," explains Pitts. "We've been working with client studios to develop the program, and we're ready to introduce it to the industry at large."

If you'd like to learn more about our Underground Consulting program, including how your studio can benefit, you can read more about it here. You may also want to take a look at our white paper on crunch.
Thanks to Waypoint for taking the time to share word of our mission. Don't forget to check out the full article — it's a good one.

[Waypoint]