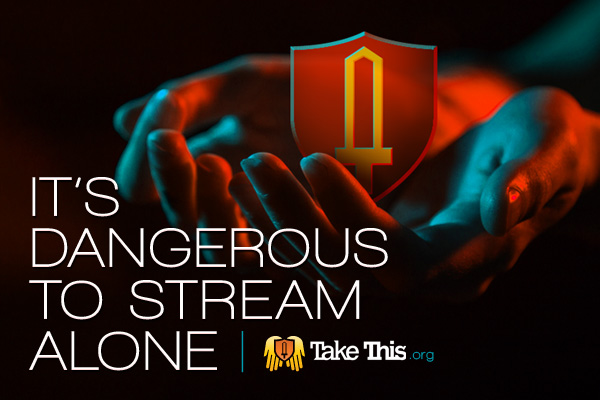 The holidays are upon us, which means it's time to get nice and cozy, settle in with a good video game, and stream with some of our wonderful friends and supporters. It's a Take This tradition: the It's Dangerous to Stream Alone holiday fundraiser. We make our own merry with five days of game streams and good times, and we hope you'll come too. From December 26 – December 30th, we're inviting everyone to join our streaming campaign.
Yes, that's right: everyone. Maybe you're an experienced streamer. Maybe you're still learning what that means. Or hey, maybe you're happiest watching and chatting. However you prefer to play, we'd love for you to join us in the name of mental health awareness.
This can be a difficult time of year for a lot of us. That's why we like to hold our annual fundraising stream right around the holidays, when we can all get together to cheer each other on. The funds we raise in the process go to helping fund and further the Take This mission and the many programs we have planned for the new year. If you'd like to help us support each other, support the Take This mission, and support mental health awareness, it's easy to join. You can start right now – you don't even need to wait until the 26th!
Just visit our Tiltify campaign page and click "Campaign For Us" if you'd like be part of the streaming fundraiser. If you'd like to watch, you can either visit the Twitch channels of anyone who joins us in streaming for the campaign, or head to our Twitch channel at twitch.tv/takethisorg. Once the fundraiser officially begins, you'll find it packed with wonderful volunteer streamers. And if you want to donate or help spread the word (why, thank you!), you can share our campaign or visit Tiltify and click "Donate Now."
Let's brighten up the last week of the year and have some good times, shall we? It's dangerous to stream alone — but it's great fun to #StreamTogether
---
We also want to extend our thanks to all of you who joined us for last year's holiday stream. Take This had a goal to start a scholarship fund but we fell short of what would be required to get that off the ground and running while still maintaining our current efforts. With the AFK Rooms helping thousands throughout the year, we wanted to not lose track of our initial mission in trying to prematurely launch the Scholarship Program. We still very much want to see that program take wing, but we need to make sure that it's done right.
In part, that means ensuring that we can administrate the program without risk to anyone's privacy. Based on the services we offer, we'd be exempt from requirements, but after discussing the risks to personal health data, we decided HIPAA compliance is the only way we as an organization could offer a level of privacy and security where we'd feel comfortable collecting health data.
We do not take lightly the support you all give us and we just want to be sure we acknowledge and thank you for supporting our continued efforts each year.