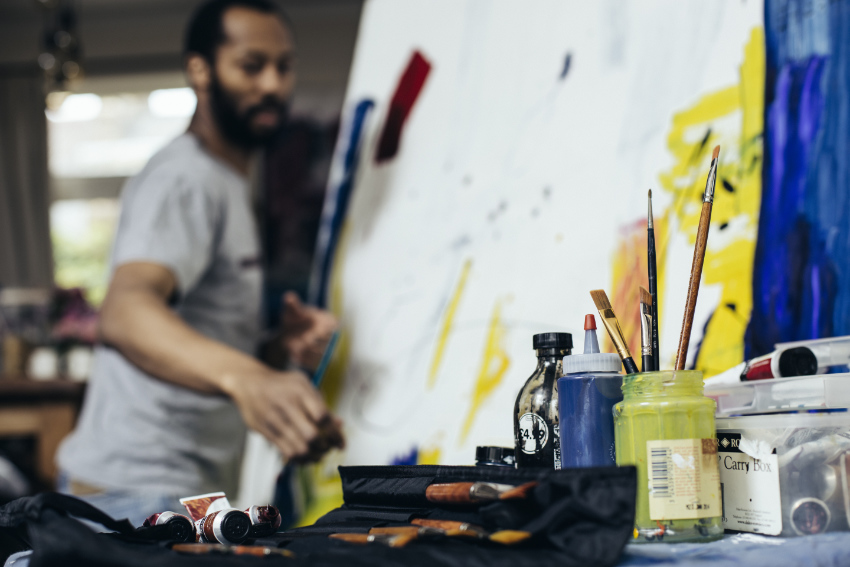 Making art in difficult times can be healing — but it can also be very challenging. If you're having trouble working up the energy and motivation to create, maybe a little help is called for.
That's the idea behind the Make Art Not War 2017 Challenge. Organized by writer and game development Monica Valentinelli, it asks all of us who want to create any kind of art to take a simple pledge:
I pledge to devote one hour a day to my original art.
If I don't feel motivated, I pledge to write down the reasons why I wanted to take this challenge for fifteen minutes or one-to-three pages whichever comes first.
I pledge to mark down on the calendar whenever I complete a day's efforts.
As the challenge creator, I pledge to create a weekly accountability post every Wednesday beginning on January 9th. Comments will be open. Hashtag #makeartnotwar2017 #manw2017
I pledge to check into social media twice a week for personal use, and once a month with my local community of artists and writers.
This might not be possible in your circumstances, and that's totally okay. You could make a smaller commitment, do your own thing, or just hold this in mind for when you are ready to take the plunge back into creativity.
If you do think you're up for it, there are some good reasons to take this particular pledge. The goal is measurable and manageable — an hour a day of creative output, no matter how successful. It uses the motivational techniques of Don't Break the Chain, which many people swear by for habit building. It also includes accountability and a group of supportive creatives to connect with. Valentinelli goes into detail about the benefits of these different approaches on her blog.
So why did Valentinelli start the challenge?
When times are tough, the feeling that artists are not necessary tends to permeate because art is viewed as a luxury item in some cultures since we don't produce food, clothing, or housing. The exact opposite is true, because art is a documentation and representation of our humanity and all our struggles. People turn to stories to find hope, to be inspired, to reach inside themselves and discover their own courage. This challenge is about making art to tap into your voice and tell your story. After all, one story can change the world. The problem is, we have no idea which story that will be, when it will be told, or in what medium. It's up to us to find it–by making art!

Art can be healing, and it can also help others — if we give it a chance. The Make Art Not War Challenge is just one way to do that, so don't feel like you have to commit if it doesn't work for you. But if you have an hour to spare, spending it focused on creation could be a great way to pause your worries for a little while.