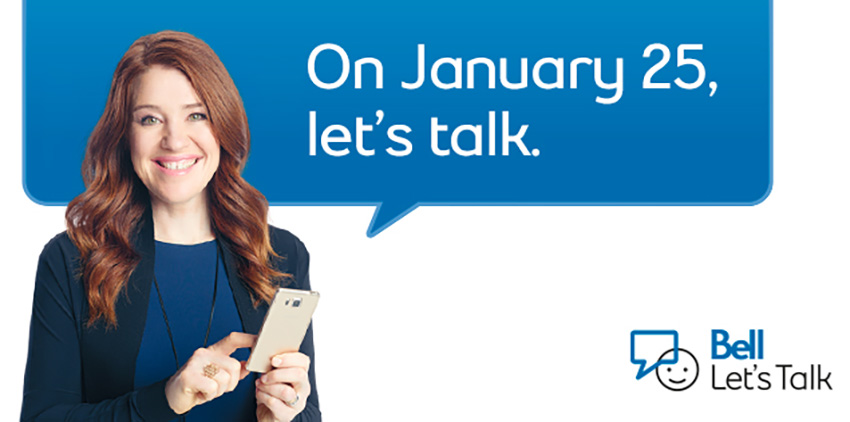 Opening up about our mental health issues can have a big impact — it lets others know they aren't alone, and the value of that can't be measured. Thanks to Bell, a Canadian telecom, opening up about mental health today can also help raise funds for mental health initiatives.
January 25th is Bell Let's Talk Day, a corporate awareness day that seeks to start conversations about mental health. This year, Bell's campaign has an action plan: 5 simple ways to help put an end to mental health stigma.
Language matters – pay attention to the words you use about mental illness
Educate yourself – learn, know and talk more, understand the signs
Be kind – small acts of kindness speak a lot
Listen and ask – sometimes it's best to just listen
Talk about it – start a dialogue, break the silence
Many Take This supporters already live by those tenets, of course, and it's great to see them being encouraged on a national scale.
If you decide today's the day to start one of those conversations, Bell wants you to tag it with #BellLetsTalk on Twitter or Instagram. For each use of that hashtag, texts and calls on the Bell network, views of the Bell Let's Talk Day video on Facebook, and uses of the Bell Let's Talk geofilter on Snapchat, the company will donate 5 cents to Canadian mental health programs.
Some of the initiatives Bell supports include the safeTALK program, which trains Indigenous people of Canada in isolated northern communities as suicide-alert peer helpers; a St. John's Ambulance program that will help bring mental health training to First Aid courses nation wide; and a McGill University project that expands online resources for multicultural communities in languages that include Arabic, Farsi and Mandarin. Over the 6 years the Let's Talk campaign has run, Bell has given nearly $80 million (about 61 million USD) to programs like those.
If you're concerned for the mental health of someone you care about but don't know how to broach the subject, Bell has also commissioned a conversation guide that can help.
Really, every day's the perfect day to talk about mental health — and today's a good day, too.