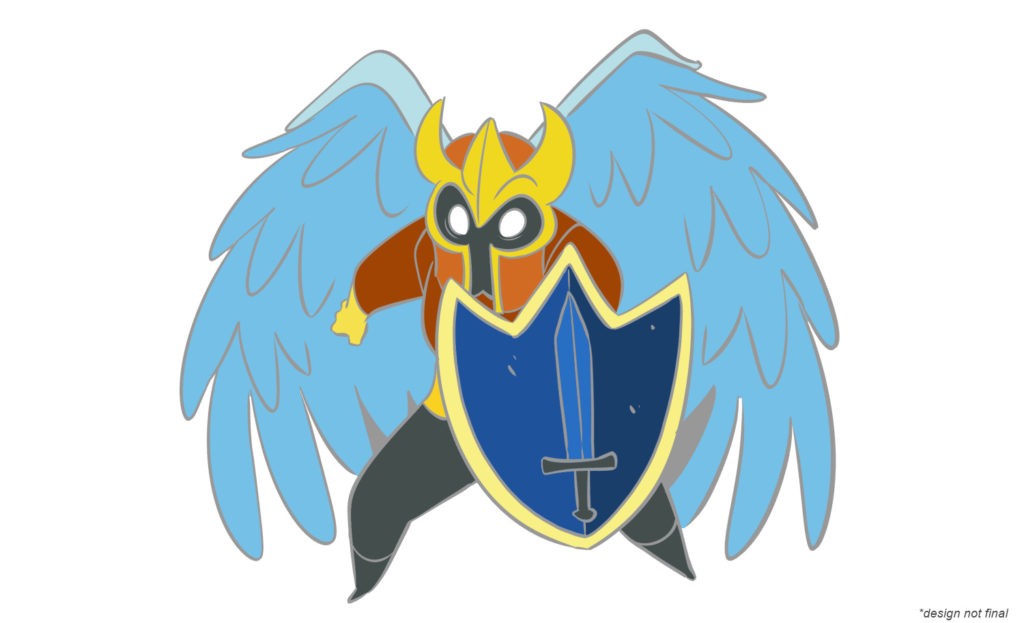 Take This is thrilled to announce a delightful addition to our AFK Room fundraising campaign: a gorgeous Pinny Arcade pin designed by Penny Arcade's Mike 'Gabe' Krahulik. Above, you can see Krahulik's original art for the pin. Stay tuned — we'll have the final pin design for you soon.
All proceeds from this pin will go to supporting Take This' programs with the goal of fighting mental health stigma in the video game community, informing our community about mental health issues, and providing education about mental disorders and mental illness prevention. You may be familiar with one of our programs already: the AFK Room. It's a quiet room that's been there at every PAX event since 2015, staffed with clinicians and other volunteers who are there if you're in need of a breather or a little more help.
Right now, you can directly support the AFK Room program by pledging to our Kickstarter campaign — and you can get your hands on this pin in the process.
"I know for a fact that having Take This at our shows has saved lives."

– Jerry Holkins, Penny Arcade

The AFK Room program wouldn't exist without PAX and the support of the Penny Arcade team. We got our start at PAX East 2014, and now we attend every PAX worldwide. We also bring the AFK Room to several other major gaming events each year. At most events, we get hundreds of visitors a day, people who need a break from the excitement and stimulation of a large event, conversation about mental health related issues, or even help getting through a crisis.
Let Penny Arcade's Jerry Holkins, Bethesda's Pete Hines and others explain why the AFK Room is needed, and why the program is worth supporting.
If you want to be one of the first to get your hands on this new, limited quantity pin, you can pledge for it in support of the AFK Room program. It will never again be sold by us online — anywhere. You can also pledge for our existing Pinny Arcade Psychomancer pin, together or separately.
This pin will eventually be made available as part of the Pinny Arcade Pin Quest at a future PAX event. We can't yet say which one, but it won't be during our fundraising campaign. Until that happens, this campaign is the only place you can buy the pin and check that hypothetical box off on that future Pin Quest.
And with your support, we'll be at future PAX events too. Just in case you or someone you care about ever needs a breather or a little more help. It's dangerous to go alone — so we want to be there for all of you.