Eating disorders are a sensitive topic, so much so that we rarely encounter media dealing with them outside of the occasional 'very special episode.' For National Eating Disorder Awareness Week, let's look at a few games that have tackled the subject.
[font_text link="" icon="star" color="dark" size="small" border="off" spin="off"]Content warning: discussion of eating disorders, violence and bullying.[/font_text]
Mangia, by Nina Freeman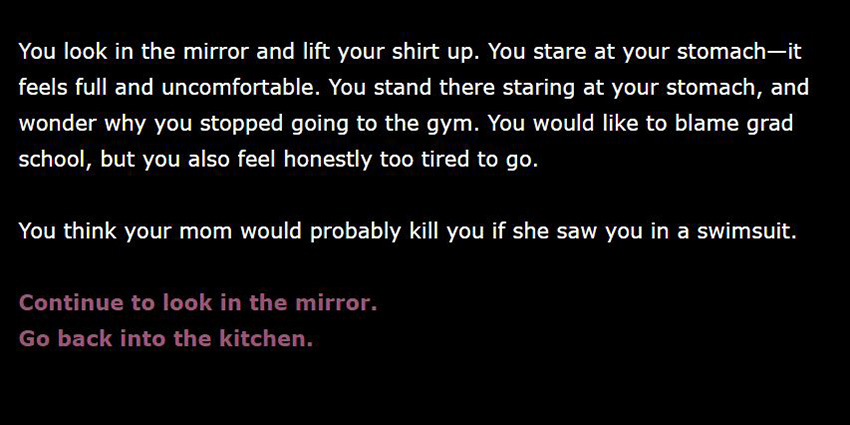 Nina Freeman is known for intensely personal games like How Do You Do It? and Cibele. Mangia isn't quite as well known, but it shares the same insight into her life as her more popular works.
It deals with her experiences with eating disorders, anxiety, and being diagnosed with an incurable medical condition that affects her ability to eat.
Talking to BoingBoing in 2015, she opened up about why she wanted to share that story with the world.
I felt sick and alone for so long. I didn't want to be alone, hiding. I didn't want to wither away with my illness. I wanted people to see me, and I wanted people to see me through these games. I want people to embody me in my games… to come away with the perspective that they better understand me as a person.
---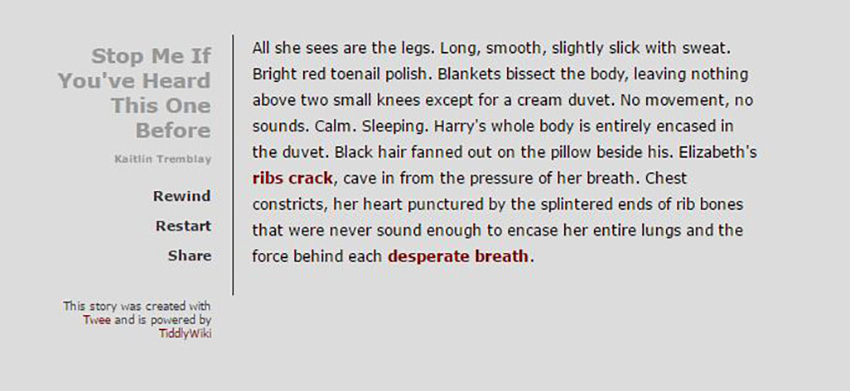 Kaitlin Tremblay has written several games about mental health issues. They aren't for the faint of heart. Visceral and violent, they metaphorically address some of the darkest parts of the experience of issues like eating disorders.
Stop Me makes the player complicit in the deconstruction of the body of its protagonist. Tremblay explained that choice to FemHype:
I didn't want it to be like reading American Psycho, where you can flip past parts you are uncomfortable with. I wanted people to be affected by moving Elizabeth's hand as she self-harmed because I didn't want it to be ignored. Especially with eating disorders—that have the highest mortality rate of any mental illness—not seeing or ignoring obvious pain and symptoms is a huge problem. And for me, player-interactivity was really the only way to achieve this. It's these little things that excite me about making games. Ways to involve players in hearing something that is extremely difficult to talk about.
---
Jenny Jiao Hsia's games are bright and colorful, like the "cyberpink" puzzler Beglitched. Consume Me is no exception. It isn't strictly about eating disorders — rather it looks at disordered eating and extreme dieting. In it, you need to literally balance your meals, adhere to strict workout standards and somehow fit a square meal into tight calorie restrictions.
Consume Me isn't available yet, so follow Hsia on Twitter for updates.
Here's her description of her design goals for Consume Me:
"Games are just a collection of rules." Consume Me draws from my attempts at dieting when I was in high school. During the most intense part of this experience, I wrote down a bunch of very rigorous rules for myself to follow. Consume Me is inspired by this set of rules: I would also like to explore this dissonance between knowing what you need to do in your mind–with rules clearly laid out before you–and your actual ability to follow these rules.
---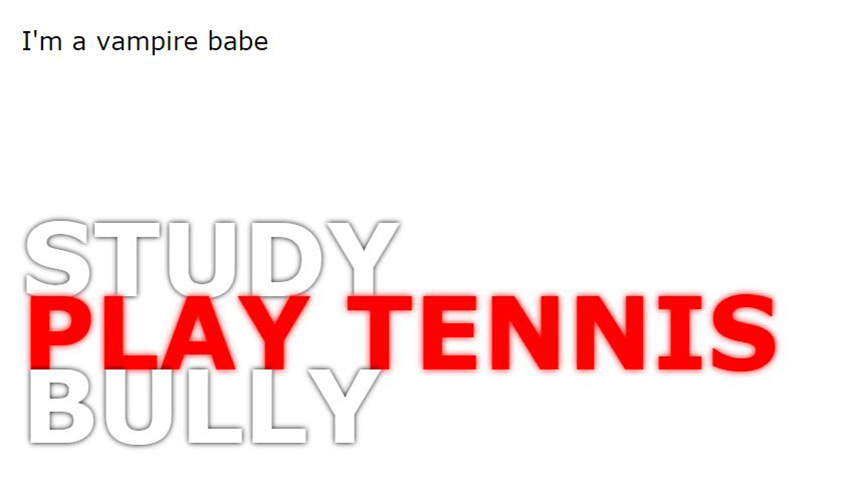 Porpentine's Love is Zero is a loud, flashy text game about vampire tennis school girls on the moon. It touches on eating disorders, bullying, cruelty, and mostly identity. Each playthrough is unique.
Porpentine explains some of the inspiration behind the game:
One of the most taboo subjects in our world is any real, in-depth conversation about female competition, the first bastion of defense for the patriarchy.

For me, discussing female competition is neither about glorifying it or putting down women, but to have conversations that lead to a greater awareness of the dynamics of female competition so we can interrogate where those feelings come from.
---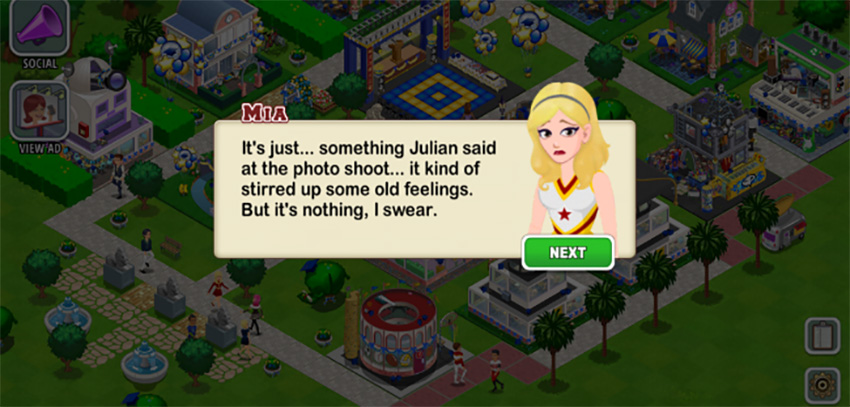 High School Story is a free-to-play mobile game created for teenagers. Its ongoing storylines include both educational content and explorations of social issues.
In 2014, High School Story added a storyline about eating disorders. The team at Pixelberry partnered with the National Eating Disorders Association to create a responsible, educational story. Because discussion of eating disorders can be particularly triggering, Pixelberry included a warning and opt-out before players encountered the content, and they offered resources so players could find help if they were affected by the story or by body image issues. According to AdWeek, over 100 players per week were directed to professional counselors through the game.
Here's a snippet of Mia's story.
Mia: I want you to understand… I really appreciate you sharing your insecurities with me… But the way I feel about myself… it's not just insecurity. It goes way, way deeper. I… I have an eating disorder. I mean… I used to see a therapist, and she sort of helped me understand what was going on… When everything else in my life seemed impossible… my weight was the one thing I could control. Lately, things have been better. Ever since I came to Danny's school, I've actually been… happy. But when I saw those yearbook photos, all of my old fears came flooding back. I want to be okay… but maybe I'm not.

Danny: Mia… you will be okay. We're all here for you. And if that's not enough… I mean, you mentioned a therapist… are you still seeing her?

Mia: I haven't in a while… but I think maybe it's time I started going again.


[notification type="normal"]If you need help with eating disorder-related issues, the National Eating Disorders Association offers a helpline on Monday-Thursday from 9AM to 9PM ET, and Friday from 9AM to 5PM ET, and a live chat and text line as well. You can also contact the National Suicide Prevention Lifeline 24 hours a day, 7 days a week, by calling 1-800-273-8255 or reaching out via chat.[/notification]