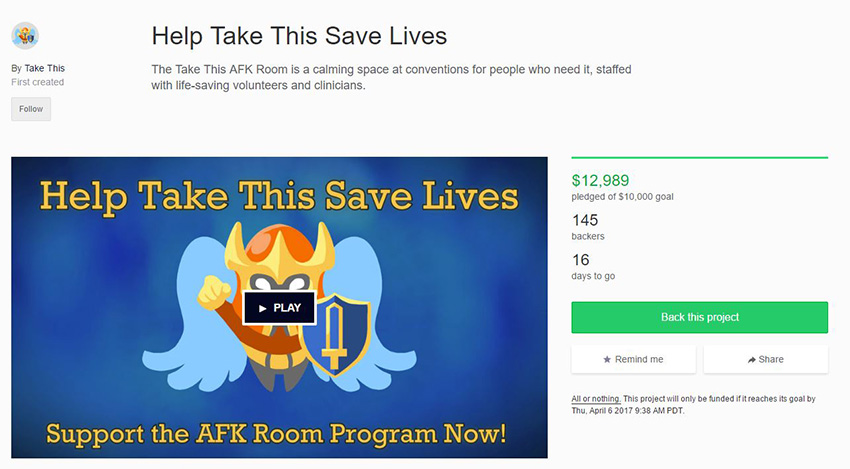 If you've been following our AFK Room crowdfunding campaign, you've probably noticed that we changed platforms from Indiegogo to Kickstarter partway through the process. Cliqist recently sat down with Take This co-founder Russ Pitts to discuss the reasons for that change, the resulting challenges for funding our 2017 programs, and the reasons we care so much about bringing this program to as many conventions as possible.
And don't worry, the Indiegogo story isn't all bleak. Take This is receiving the funds from that campaign. If you backed it, your pledges are safe — and you have our most sincere thanks for your support.
"I found out when I checked the campaign page the Wednesday of GDC, just to see how well it was doing as I was killing time waiting for my talk to game developers about mental health in the workplace to begin," Pitts said, "I was about three hours away form taking the stage. My heart (figuratively) exploded, and I called all hands on deck to see how we could work the problem."

Of course the team immediately reached out to Indiegogo for some explanation as to why their campaign was suddenly closed halfway into their funding period. Indiegogo has been less than helpful in regards to providing answers.

…

The campaign closure came at a particularity difficult time as the team was preparing for PAX East. They knew it was important to have the campaign available during the show because it provided them the best opportunity to demonstrate the program while attempting to raise money. The team quickly began pulling assets from the Indiegogo campaign in preparation for a move to Kickstarter.

Want to know the whole story? Read on.
There's still time to help make 2017's AFK Rooms a reality. Back our Kickstarter to show your support for one of the biggest mental health initiatives in the video game industry. And if you've already helped, you have our thanks. It's dangerous to go alone, but together, we can make the gaming world a better place for everyone.