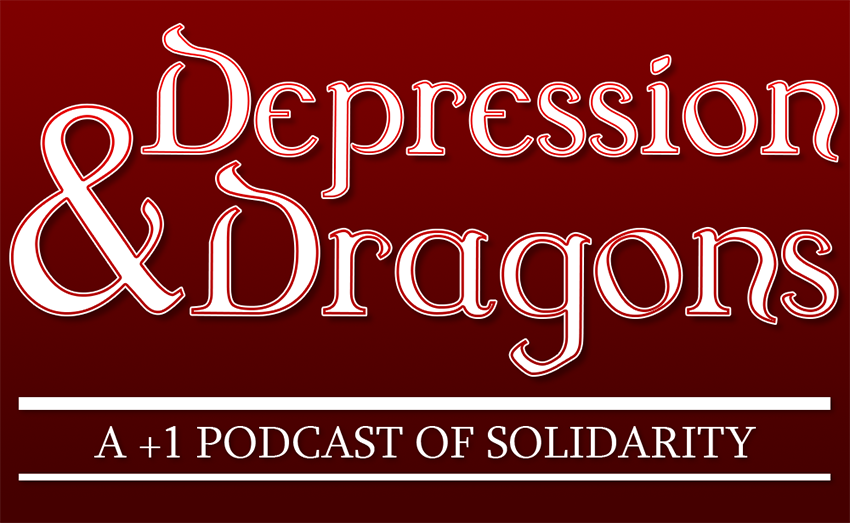 Have room in your life for a new podcast? If so, you might want to check out Depression & Dragons, a new podcast that seems tailor-made for anyone interested in mental health and gaming.
There are only three episodes available so far, and it's surprisingly hard to pin down its format. The first episode, Genesis, shares a pair of geek "origin stories," — tales of how tabletop roleplaying first made an impact on the lives of two people who are still gamers today. The second, 21st Century Storybook Love, sets out to illustrate that geeks are people with love lives, sex lives, and important relationships, by telling a love story from two very different angles. The third, Alone, Not Idle, is an interview with Phil Day, an educator, artist, author, and one-time world record holder for Galaga. Day talks about how gaming gave him something to hold onto during his darkest days.
The podcast gets into topics of alcoholism, emotional and physical abuse, and suicide. Content warnings are included in episode descriptions.
Brian Holland, the podcast's host and producer, talked to us about the storytelling in Depression & Dragons:
The stories featured in "Depression & Dragons" are fiction based on fact. I've met so many people in gaming clubs and groups over the years who have had remarkable stories just like the ones I shared in my 'modifying yourself' articles.

Some people approached me and asked me to share their stories, other people I asked them. Some stories will be based on my own experiences. Some stories will be some combination of these.

I wanted "Depression & Dragons" to feel like a super authentic story. As such, I don't actually write a script. I know the stories, and it's just me telling them.

Holland previously worked on The Winning Agenda, a successful Android: Netrunner podcast. While he was working on TWA, he took on a side project for the podcast's website.
I wrote a short series of articles entitled 'Modifying Yourself', which was basically a collection of my own experiences with my mental health and how it effected my game play.

The articles were received startlingly well. I had strangers emailing and messaging me, talking about how they related to my experiences. One listener even sent me a gift and a letter in the mail. It was pretty amazing that something I'd written had helped so many people.

Around then was when I started to think about what would become "Depression & Dragons."

Holland hopes that the stories he tells will help people empathize with others around them, because stigma stems from a lack of empathy. For him, the main impetus behind Depression & Dragons is twofold: "To help remove the stigma of both gaming and mental illness, as well as remind people who think they are suffering alone, that they are not."
You can find Depression & Dragons on iTunes, and follow the podcast on Twitter for updates and more information.