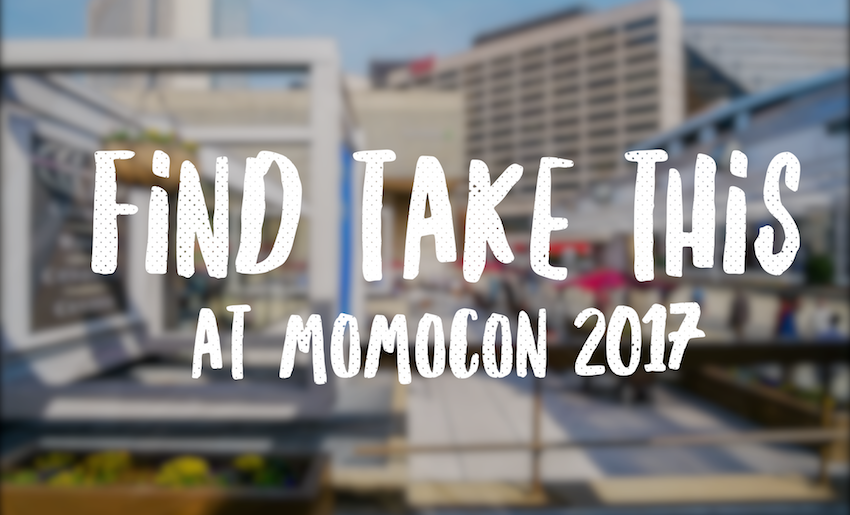 Heading to MomoCon? Don't forget to stay hydrated, wear comfortable shoes — and note down where to find the AFK Room.
The AFK Room is a quiet, safe space staffed with licensed mental health clinicians and volunteers. If the busy convention gets to be too stimulating, your anxiety gets to be too much, or you simply need a break from all the fun, come find it on Level 3, in Room A304.
By design, the AFK Room is the most boring room at MomoCon — we want you to be able to regain your calm. That means low noise, no interruptions, and a whole lot of peace and quiet. If you need more support, check in with our volunteers or clinical staff. They're trained to help in a crisis and can help you find the resources you need.
AFK Room Hours:
Thursday, May 25: 2 pm – 7 pm
Friday, May 26: 11 am – 7 pm
Saturday, May 27: 11 am – 7 pm
Sunday, May 28: 11 pm – 5 pm
Merchandise and Information
If you're interested in the Take This mission of raising mental health awareness and fighting stigma, come by our merchandise and information booth. You can find it in the Organization Table area of the Exhibit Hall, which is right between Artist's Alley and the autograph area. Pick up a Take This pin or a Box of Hope, say hi to our awesome volunteers, and learn about Take This.
Booth hours:
Thursday, May 25: 2 pm – 8 pm
Friday, May 26: 10 am – 7 pm
Saturday, May 27: 10 am – 7 pm
Sunday, May 28: 10 pm – 5 pm
We hope you have an amazing time at MomoCon. If you need a little support to make that happen, the AFK Room will be there to help.
Help Us Help Attendees and Exhibitors
To support the Take This mission or help us bring AFK Rooms to more conventions, consider a donation or sign up to volunteer. We couldn't do this without our supporters — it's dangerous to go alone, so we're grateful to have you with us.
Photo credit: Henk Sijgers (CC BY-NC 2.0)