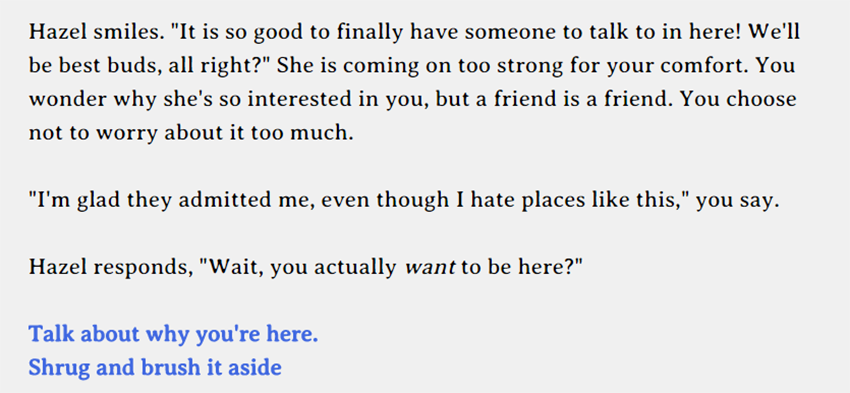 [font_text link="" icon="star" color="dark" size="small" border="off" spin="off"]Content warning: Discussion of suicide and inpatient psychiatric care.[/font_text]
Choice is usually fundamental to interactive fiction, as it is with Alana Zablocki's Inpatient — A Psychiatric Story. But in this game, your choices often aren't what you want them to be, and the outcomes regularly feel out of your control. That's by design, as Zablocki set out to create a game that reflects her experience of inpatient psychiatric care.
In it, you play Jessica, a woman who decides to visit the emergency room to cope with suicidal thoughts. From there, she spends up to 72 hours in the hospital with your choices guiding her. That 72-hour mark is key, as it is the border between voluntary and involuntary care in many inpatient psychiatric healthcare scenarios.
Inpatient isn't a fundamentally negative portrayal of hospital care — this isn't One Flew Over The Cuckoo's Nest, where the system is purely out to control and crush free spirits. But it does portray Zablockni's views of a system that can't always offer the help individuals need, or that can sometimes offer help in ways that feel dehumanizing.
This ambivalence is clear in the first chapter of Inpatient, when the player first arrives at the hospital. The situation is uncomfortable, but it's quickly made clear that putting all your effort into avoiding an overnight stay is counterproductive and dangerous. Equally, once you're undergoing psychiatric care, you can say and do all the "right" things to convince the doctors and nurses that you don't need their help — as patients sometimes do — but that can leave you without the support you require.
It's an unusually nuanced perspective that gives the player's choices a great deal of weight, even in a situation where the player has very little power or control. That perspective captured the attention of Empowerment Council, a patient advocacy group. Lucy Costa, the deputy executive director of the organization, spoke to CBC about Inpatient.
[Costa] says the game shares a particular viewpoint that doctors can learn from.

She says it also allows users of the psychiatric system to see a similar story to their own unfold.

"People don't often get opportunities to speak about something as intense and complicated as suicide. I don't think people have enough places where they can see their realities reflected, so providing an outlet where somebody could engage with the game is a positive thing."

Costa is working with first-year psychiatry residents to help them better understand a patient's point of view. She said it is too late to add Zablocki's game to the curriculum, but would "absolutely have no qualms" about using it in the future.

Inpatient is one person's portrayal of the Canadian psychiatric system, and it is critical in nature. Some of the endings are bad, and some are complicated. But it can also offer hope — that even in a challenging situation, there are people who do their best to help, there are human connections to be made, and there are ways forward during very hard times.
Zablocki also spoke to CBC about the experience of writing it, explaining that it was a painful project to work on.
"Over time it got easier, I was able to write longer sessions. But I think by the end my original purpose kind of turned to a macro scale— I wanted not just people in my life to see this, but I thought it would be helpful for the public in general to have this experience too," she said.
If you're considering playing Inpatient, be aware that it deals with a lot of difficult subjects, including suicide, abuse, transphobia, drug use, and the loss of a pet. If you'd like to check it out, it's available online on a pay-what-you-want basis.