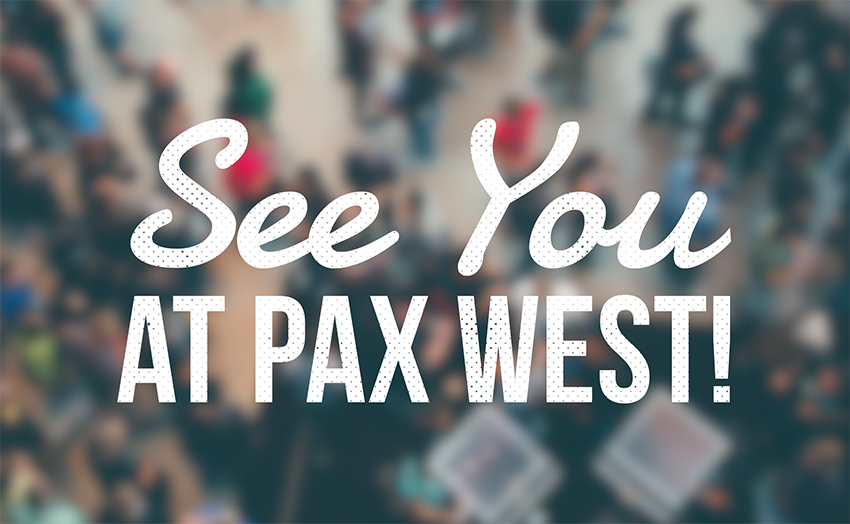 Heading to PAX West 2017? We'll be there, bringing the AFK Room, panels, and some amazing new merchandise.
From Friday, September 1st to Monday, September 4th, you'll find Take This in the Washington State Convention Center in Seattle. We have two bases of operations at PAX: the AFK Room and our booth in the Diversity Hub and Lounge.
The AFK Room is a quiet space staffed with licensed mental health clinicians. It's a great place to go if you're feeling overwhelmed by the show, if you're anxious or overstimulated and need to get off the floor for a while, or if you or a friend needs support. You can sit, color (it's a wonderful distraction if you need one) and cool down in a low-noise, no interruption environment until you're ready to head out and enjoy the show again. Our clinicians and volunteers can help out if you need more support, and they're great in a crisis.
Just down the hall in the Diversity Hub and Lounge, you'll find our booth and more of our fantastic volunteers. If you love Take This and you want to say hi, stop by and let us know! We'll have information available, and we'll also have lots of merchandise, like pins, including our new Pinny Arcade pin designed by Penny Arcade's Mike Krahulik, tote bags, the Box of Hope, and plushies. The plushies look like they're going to be a popular item this year and our pins always fly off the table, so be sure to stop by early. We also take donations, if you want to help the cause of mental health awareness and support in the gaming industry (you can always donate online, too).
A quick note for our generous Indiegogo and Kickstarter supporters: We hope to see you at PAX West, we aren't able to fulfill your pledge rewards at the show – the logistics of that would simply put too much of a strain on our volunteers. But keep an eye on your email in the days following the show, because we'll be getting ready to ship those rewards out as soon as we can.
We'll have more details about our presence at PAX West next week, including room locations, hours and panels, so check back soon Thanks to our wonderful supporters for helping us provide an AFK Room at PAX West again this year!