We've seen our share of Disney Princess reimaginings in our time — you know, what if Princesses were in your favorite video games? What if they were on The Simpsons? What if they lived in modern times? What if they were processed meat products? — but Arien Smith's Disney Princess series is a little different. Smith is a advocate for disability rights and mental health, and brings that advocacy into his art with the Royal Service Dogs series.
The series gives fans with disabilities the opportunity to see themselves in some of Disney's most popular characters, and it also raises awareness of the many roles service dogs can fill. He's created a Pocahontas with diabetes, whose service dog can alert her to low or high blood glucose levels; a Sleeping Beauty with narcolepsy whose dog can support her head; a Snow White with food allergies, whose pug recognizes allergens in food; and a Cinderella with fibromyalgia — her service dog helps with her shoes.
Smith has also tackled the topic of mental health-related service dogs. Belle is portrayed here with Generalized Anxiety Disorder. In the illustration, her service dog demonstrates a blocking posture that can alert her to people approaching from behind.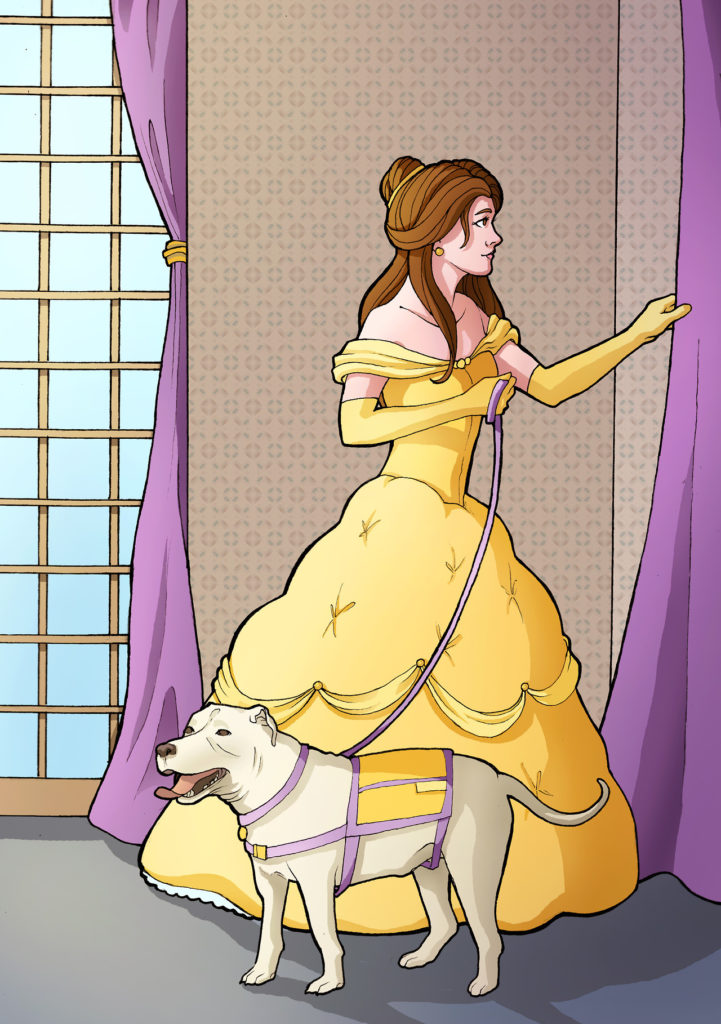 Rapunzel is portrayed with Complex PTSD and Dissociative Identity Disorder, and her service dog is shown comforting and grounding her. A service dog's tactile stimulation can be very helpful for people with a number of mental health issues.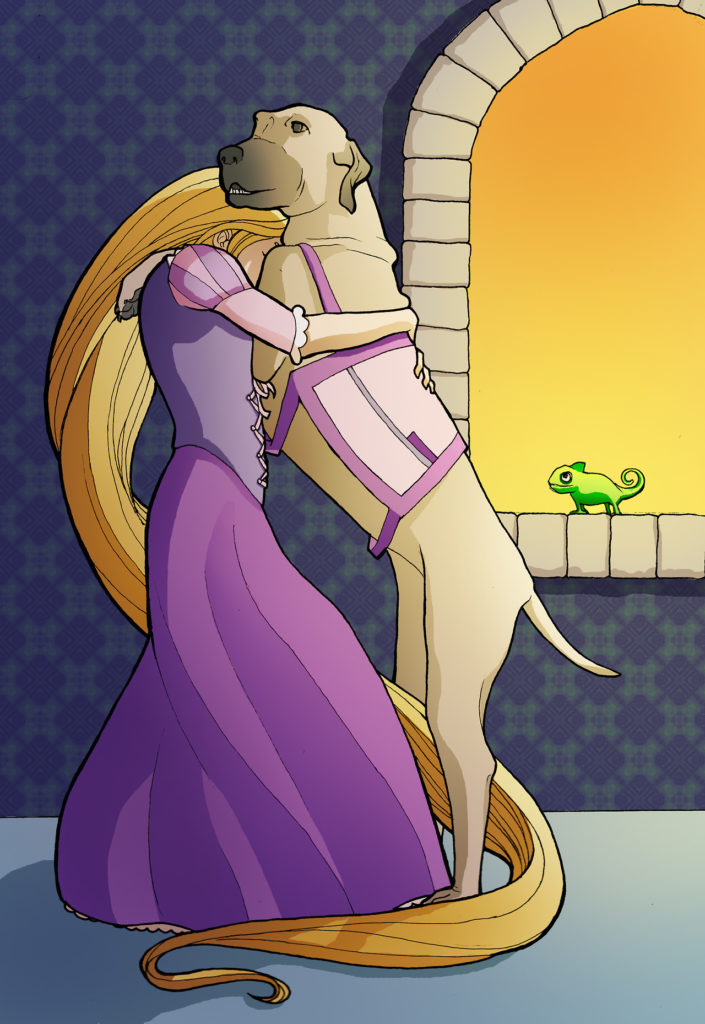 Psychiatric service dogs are sometimes trained to bring medication or phones to their handlers in a crisis, to lead their handlers to help, to locate exits or search areas for threats, to interrupt and redirect unwanted behaviors, and to provide many other valuable services. They differ from therapy dogs, which are trained to comfort strangers and are generally brought by their owners into hospitals, nursing homes and stressful environments, and emotional support dogs, which provide comfort but aren't trained in specific tasks. (It goes without saying, but all types of support dogs are wonderful, and are very Good Dogs, indeed.)
Smith's Princess series also includes Tiana, who is portrayed with Autism.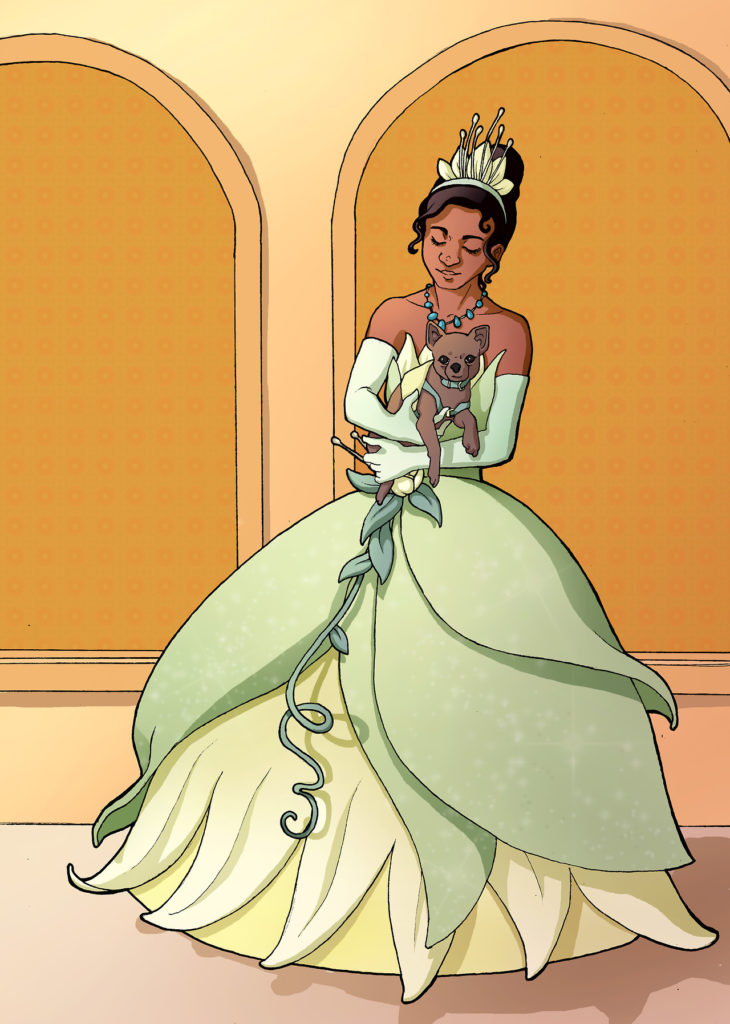 Her dog isn't performing a task in the illustration, but autism service dogs provide a wide range of services, including identifying external stimuli that need attention, signaling self-stimulation behavior that the handler may want to choose to stop, counterbalancing and bracing for motor control issues, and more.
Smith explains that he was inspired to imagine his own portrayals of disability since popular media rarely does the job.
This project was born when I recognized how rarely disabled characters are portrayed in popular media. It's a critique of this, by illustrating popular characters with service dogs and various disabilities. Since Disney princesses have been often critiqued for their diversity, or lack of, they were my first focus with this project.
There are other princesses in the planning stages, and he plans to eventually expand the series to princes and characters outside the Disney catalog.
Along with raising awareness, Smith is using this series as a way to raise funds for a PTSD and mobility service dog of his own. While service dogs are protected by the Americans with Disabilities Act in the US and have legal protections in many other countries, full funding is often unavailable, and their training and breeding costs can be prohibitive. If you'd like to learn more about getting a service dog of your own, check out this guide for links to many American service dog organizations..