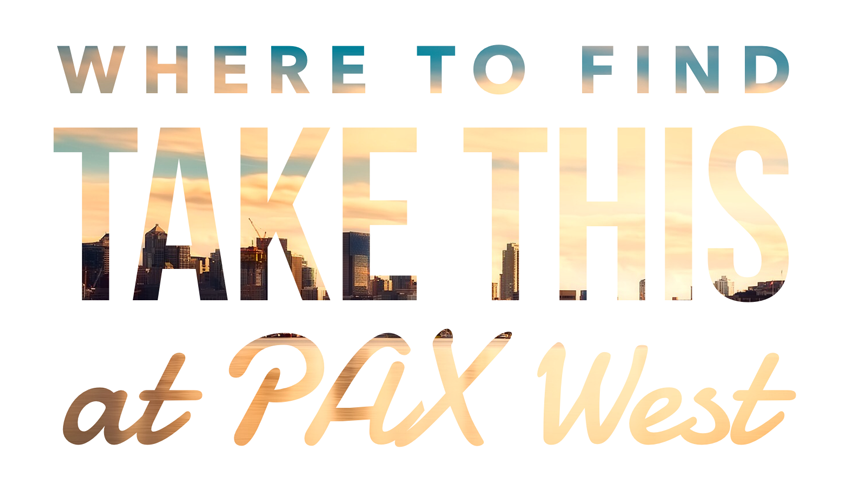 Take This has quite a presence at PAX West 2017, so here's a look at where you can find the AFK Room, Take This merchandise, and the several exciting panels we'll be part of this year.
AFK Room:
Looking for your bastion of calm at the busy show? You can find the AFK Room on the top floor of WSCC in room 601, which can be found at the end of the main hall. If you're not sure where to go, you can also ask an Enforcer.
The AFK Room is a quiet space staffed with licensed mental health clinicians. It's a great place to go if you're feeling overwhelmed by the show, if you're anxious or overstimulated and need to get off the floor for a while, or if you or a friend needs support. You can sit, color (it's a wonderful distraction if you need one) and cool down in a low-noise, no interruption environment until you're ready to head out and enjoy the show again. Our clinicians and volunteers can help out if you need more support, and they're great in a crisis.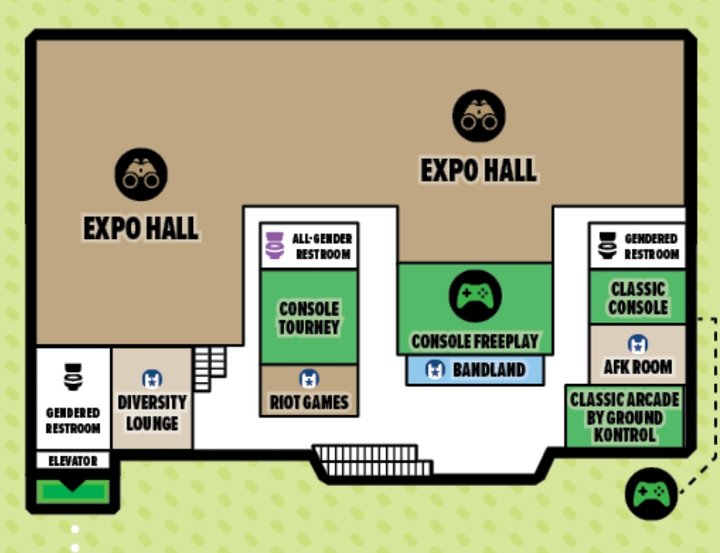 Information and Merchandise:
As always, you can find our wonderful team members and volunteers in the Diversity Hub and Lounge, also on the top floor of the show.
If you love Take This and you want to say hi, stop by and let us know! We'll have information available, and we'll also have lots of merchandise, like pins, including our new Pinny Arcade pin designed by Penny Arcade's Mike Krahulik, tote bags, the Box of Hope, and plushies. The plushies look like they're going to be a popular item this year and our pins always fly off the table, so be sure to stop by early. We also take donations, if you want to help the cause of mental health awareness and support in the gaming industry — and this year, we may have some exciting swag to offer donors from some lovely partners, so stop by the booth to find out.
Here's a sneak peek at just some of the merchandise we'll have this year: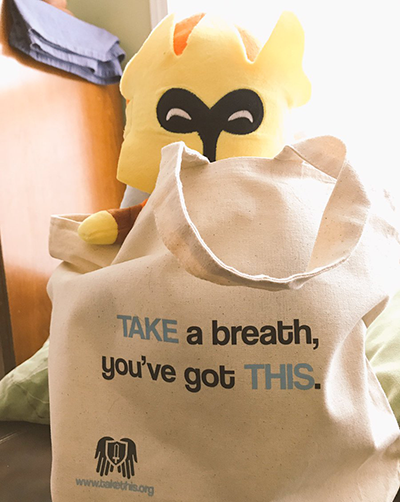 Panels:
Friday, September 1st | 1:30 p.m. | Sphinx Theatre
You want to be in the games industry, huh? What do you need to do? What does that even mean? Is it only for coders? How do you do all this without getting burned out? Our panel of industry insiders and mental health advocates will share their stories and tips for how to break into the industry, succeed, and (more importantly) how to do it while maintaining your self-care and overall health.
Take This clinical director Raffael "Dr. B" Boccamazzo and board member Kate Edwards will join other friends of Take This and industry members including Reed Albers, senior manager, digital and new media, Entertainment Software Association; Andrea Rene executive producer, What's Good Games; Jacqui Collins, marketing / events producer, Adult Swim Games; and John Swinkels, social media coordinator, Privateer Press.
---
Saturday, September 2nd | 5:00 p.m. | Hippogriff Theatre
Four intrepid gals who can't stop talking about games got together and decided to do just that, so join us for their first live panel! From playing Persona on the treadmill to elaborate setups for gaming in the bathtub, the team shares their best and not-so-best ideas for keeping it all together. They'll also discuss what games from their past inspired them down the path they walk today and what future stuff gets them all excited. Come hang out and share your own quirkiest gaming habits too!
The hosts of What's Good Games, Alexa Ray Corriea, Andrea Rene, Brittney Brombacher, Kristine Steimer are dear friends of Take This and we're expecting a special Take This presentation at this panel, so don't miss it!
---
Sunday, September 3rd | 12:30 p.m. | Hippogriff Theatre
Mental illness affects more than one in four people in the U.S. Most people suffer in silence, unwilling or unable to talk about what they're dealing with. And yet the number one way to help most mental health issues is by talking.
Take This and friends share their personal stories of dealing with mental health issues and how they've found hope together.
Hope is the kindest gift you have to give. Listen. Care. Let people know they are not alone and that there's help for what they're dealing with.
Take This president and co-founder Russ Pitts will join some of our wonderful friends, including Chris Pranger, writer, Caffelli; Aaron Linde, narrative designer, ArenaNet; author Cassandra Khaw, social media manager, Route59 Games, and freelance systems designer Michelle Flamm.
---
Sunday, September 3rd | 6:30 p.m. | Cat Theatre
Cosplay is fun, no doubt! It's a rich and vibrant culture. Still, there are stressors that people hesitate to talk about: time frames, physical health at conventions, anxiety, image expectations of other people (gender, body type, ethnicity, etc.), and many more. Join our panel of cosplayers as we discuss some of the stressors they've experienced, how to overcome them, and how to get back to the fun!
Dr. B is moderating this panel of amazing cosplayers, including Mala Foxx, Terrance Bouldin-Johnson, Brigid Lohman, Kelsey Bujacich, and Dominique Thomas.