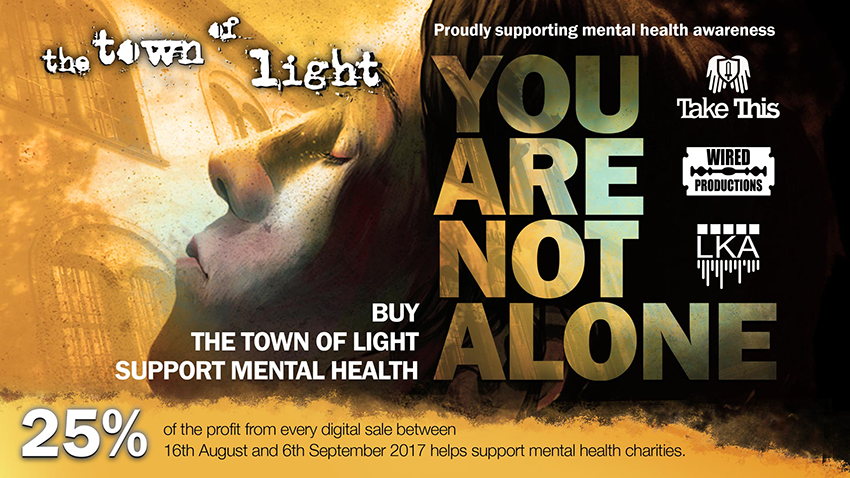 The wonderful folks at Wired Productions are setting out to raise funds for mental health charities over the course of the next year, and we're happy to say that Take This is one of those charities.
Wired Productions publishes The Town of Light, a game that takes a deep, fictionalized look at the Ospedale Psichiatrico di Volterra, an Italian psychiatric care facility that was closed down in 1978. It tells the story of Renee, a young woman dealing with mental health issues and a history of abuse. Discovering the truth of her story is a major part of the experience.
Wired Productions has announced that between now and September 6th, 25 percent of profits from all digital sales of The Town of Light (available on PS4, Xbox One, Humble and Steam) will go to a fund supporting organizations including ours.
"The motivation behind The Town of Light has always been one of compassion", said Luca Dalcò, studio head of Town of Light developer LKA. "The struggles surrounding mental health affect so many of our lives day to day; to shine a light on mental illness and tell the story of those who suffered without a voice in the past was our goal. To have the opportunity to help those in the present is more than we could have hoped for."
Leo Zullo, co-founder of Wired Productions, spoke about his reasons for wanting to support mental health-related organizations at MCV.
Once you start delving, you realise this is a big issue. When you look at your own life and circle, you realise the extent of the situation. There have been lots of people around me suffering, usually in silence. Friends have been sectioned, attempted and even committed suicide. I've borne witness to people having psychotic episodes, dealing with severe depression and anxiety attacks. This is just my circle, everyday people who are having to deal with mental illness in silence. The biggest personal irony is that, had the Italian Government not closed down Volterra 30 years ago, I would be going there to visit one of its patients today.

Video games are a good medium to reach people suffering. If you really look at the video gaming community, it is filled with troubled kids, not engaging but finding solace and escapism in a game or virtual world. We can try to reach out to them.

I've asked this question a lot recently in my personal life. "Why are we here on this planet if it isn't to look after our friends and family and help people around us?"

Let's all take a moment to look around us and see if there is someone that needs a boost, some help, or even just a chat. Talking does help a large majority of people. It also helps get you the treatment you may require at the right time, before it is too late. Help is out there… You are not alone.
Take This co-founder Russ Pitts agrees that video games can be a great way to reach people. "The biggest challenge people dealing with mental health issues face is isolation and loneliness. The feeling no one will understand or can help. And a lot of people turn to video games for an escape. Seeing mental health issues addressed in true and meaningful ways in a game like Town of Light can be a lifeline for people in need."
If you'd like to know more about The Town of Light, we talked about it at the time of its initial PC release. For deeper analysis, you can also find a fascinating (and spoiler-filled) look at its handling of female relationships and mental health over at First Person Scholar.