It's Halloween, and there's no better time to settle in with a good, spooky game — but horror games can be a minefield when you have experience with mental health issues. Here are a few dark, unsettling games that do their best to avoid the worst stigmatizing asylum tropes while exploring themes of mental illness.
Play with care: these games aren't flawless in their mental health representation, and they can deal with particularly dark situations, including suicide and sexual assault.
The Town of Light
The Town of Light does take place in an asylum, but it centers on the story of a patient, 16-year-old Renée, and her fictional experiences at a real Italian institution in the 1930s. It's not out to stigmatize mental illness or psychiatric care, rather, it shares a very painful, very human experience.
The Town of Light is a psychological adventure told in the first person. The story is set in Italy in the first half of the 20th Century in a place which really existed and has been meticulously reconstructed. Exploring and interacting with the environment you will relive the history of the main character through her confused viewpoint and on the basis of your choices, the story will develop in different ways.
Night in the Woods
Night in the Woods isn't a horror game, but it does explore some very spooky situations, some of which may be related to the mental health of protagonist Mae Borowski. Her mental health issues aren't the only ones explored throughout the course of this excellent adventure game.
College dropout Mae Borowski returns home to the crumbling former mining town of Possum Springs seeking to resume her aimless former life and reconnect with the friends she left behind. But things aren't the same. Home seems different now and her friends have grown and changed. Leaves are falling and the wind is growing colder. Strange things are happening as the light fades.

And there's something in the woods.

Developer Infinite Fall just announced the free Weird Autumn update coming to the game in December, which will feature "new weird, new crimes, and old tales."
If you're looking for something more violent, Hellblade has you covered. It's a horror-rich action game created in collaboration with neuroscientists and people who experience psychosis.
From the makers of Heavenly Sword, Enslaved: Odyssey to the West, and DmC: Devil May Cry, comes a warrior's brutal journey into myth and madness.

Set in the Viking age, a broken Celtic warrior embarks on a haunting vision quest into Viking Hell to fight for the soul of her dead lover.
Nevermind is not for the faint of heart. It's a PC and VR horror game that puts you into portrayals of the minds of people with PTSD and psychological trauma, and demands calm reactions to get through intact.
Nevermind is a biofeedback-enhanced adventure thriller game that takes you into the darkly surreal world of the subconscious. As you explore the abstract world within the minds of trauma survivors and solve the cryptic puzzles lurking within, biofeedback technology monitors moment-to-moment indications of anxiety. If you let your feelings of fear get the best of you, the game will become harder. If you're able to calm yourself in the face of terror, the game will be more forgiving. Nevermind strives to create a haunting gameplay experience that also teaches you how to be more aware of your internal responses to stressful situations.
Everything Is Going To Be Ok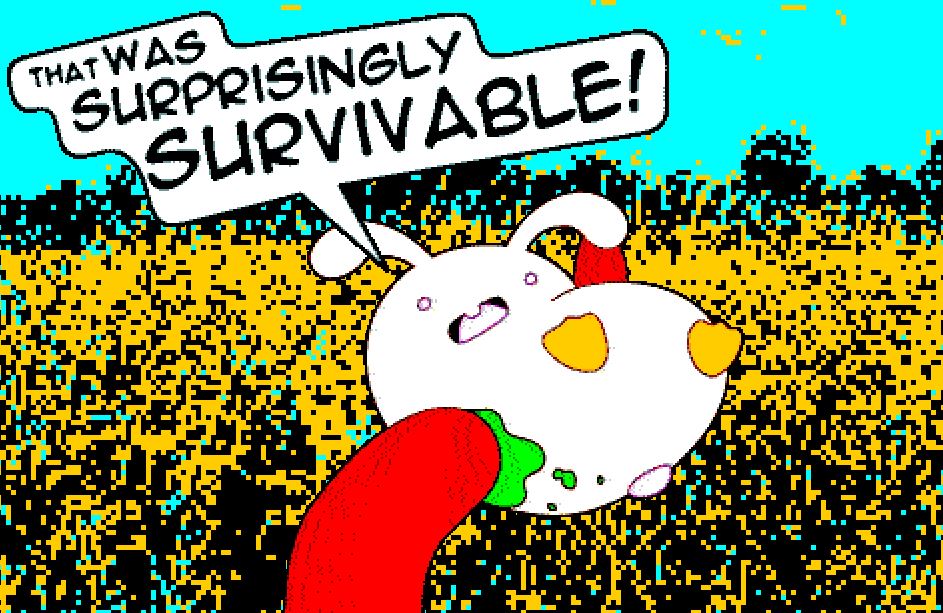 Looking for something surreal and disturbing? Everything Is Going To Be Ok may look sort of adorable, but it's also gruesome. However, it's gruesome to a purpose, taking an existential look at our often painful lives and, eventually, finding hope.
These are a collection of very abstract life experiences, things I felt while going through hard times, and how I felt, or moved on, afterward.

A lot of it is presented via humor, or creates ridiculous circumstances, because I feel like life is ridiculous. It's one damn thing after the other and after a while there's nothing left to do but laugh at it. Humor is what helps take the edge off, perhaps even create a platform for transcendence. Either way, it has been cathartic.
Your Favorite Tabletop RPG
If those five games don't fit the bill, here's a bonus sixth: your favorite pen and paper/tabletop RPG. It can be hard to find mental health representation that resonates with our own experiences — so why not create your own? Get a few friends together and make a story of your own. Monsterhearts might be a good place to start, but just about any tabletop RPG can get spooky with the right people holding the dice.